Where's Saturn? Is that a UFO--or the ISS? What's the name of that star? Get the answers from mySKY--a fun new astronomy helper from Meade.

AURORA ALERT: A geomagnetic storm is underway that could spark auroras bright enough to see through the glare of tonight's full Moon. High latitude obervers should be alert for Northern Lights.

SPACESHIP SIGHTINGS: Last night when the International Space Station flew over Texas, photographer Bret Dahl pointed his 10" LX200 at the moving point of light and took this amazing picture. The ISS has grown so large, its details are easily resolved by ordinary backyard telescopes. Tonight the details are different: space shuttle Discovery has docked to the ISS making the ensemble even bigger and brighter. Be alert for flybys.

STRANGE COMET: Astronomers around the world agree, Comet 17P/Holmes is one of the strangest things ever to explode in the night sky. It's a comet, yet it looks like a planet with a golden core and a green atmosphere: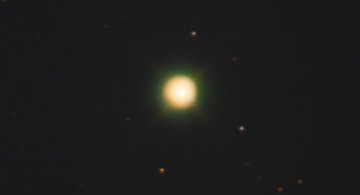 Chris Shur of Payson, Arizona, took this picture last night using his 12.5-inch telescope and a Canon XTi digital camera. "The comet was yellow and green, very bright in the viewfinder," he says.
Yesterday, Comet Holmes shocked sky watchers with a spectacular eruption, brightening almost a million-fold from 17th to 2.5th magnitude in a matter of hours. The comet is now visible to the naked eye--even from light polluted cities--high in the northern sky after sunset: finder chart.
The golden hue of Holmes' core is probably the color of sunlight scattered by comet dust, while the green fringe likely signifies an atmosphere rich in diatomic carbon and cyanogen (substances found in many green comets). There are reports that the fuzzball is expanding and taking on a lopsided shape--the first signs of a tail? Amateur astronomers are encouraged to monitor developments. After sunset, point your backyard telescope at the extra "star" in the thigh of Perseus.
Comet 17P/Holmes Photo Gallery
[sky map] [ephemeris] [3D orbit] [Night Sky Cameras]
BIG FULL MOON: Tonight's full Moon is the biggest full Moon of 2007. It's no illusion. Some full Moons are genuinely larger than others and this one is a whopper. Why? Read the answer below.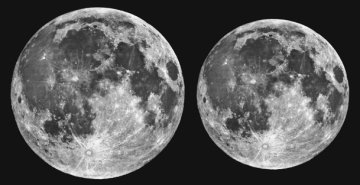 Left: A big, bright perigee Moon. RIght: A lesser apogee Moon.
The Moon's orbit is an ellipse with one side 30,000 miles closer to Earth than the other. The full Moon of Oct. 25-26 is located on the near side, making it appear as much as 14% bigger and 30% brighter than lesser full Moons we've seen earlier in 2007.
In the language of astronomy, the two ends of the Moon's orbit are called "apogee" and "perigee." Apogee is the farthest point, perigee the nearest: diagram. This week's full Moon is a "perigee Moon" with extra-high "perigean tides."
The Moon is 14% bigger, but can you actually tell the difference? It's not so easy. There are no rulers floating in the sky to measure lunar diameters. A fun experiment: Take a friend outside tonight and ask if they notice anything unusual about the Moon. Explain perigee after they answer.
---
October 2007 Aurora Gallery
[September Gallery] [Aurora Alerts]