Where's Saturn? Is that a UFO--or the ISS? What's the name of that star? Get the answers from mySKY--a fun new astronomy helper from Meade.

BRIGHTEST MOON: Last night's full Moon was the biggest and brightest of the year. How bright was it? In Buenos Aires the Moon shot out of the eyepiece of Enzo De Bernardini's telescope like a spotlight, while in Québec intense moonlight revealed the countryside's Fall Colors after dark. It was also a good night for picking pumpkins. Only the Boston Red Sox were more luminous.

EXPLODING COMET: When we say Comet 17P/Holmes is "exploding," this is what we mean: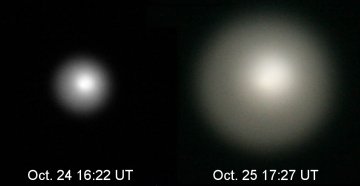 The gaseous cloud surrounding the comet's core has more than doubled in radius during the past 24 hours. "I captured these images on consecutive nights using the same equipment (a 14-inch LX200 GPS) and similar exposure times (1x10s)," says photographer Eduardo Hernandez of Torreon, Mexico. This follows an even more astonishing million-fold increase in brightness on Oct. 23th.
What is happening to this comet? It remains a mystery.
It's a mystery you can behold with your naked eye. Step outside after sunset, face north, and look for the extra "star" in the thigh of Perseus: sky map. Comet Holmes is similar in brightness and appearance to the stars of the Big Dipper, very easy to see. If expansion of the spherical cloud continues, Holmes could soon become a naked eye disk rather than a dimensionless point of light. Stay tuned!
Comet 17P/Holmes Photo Gallery
[sky map] [ephemeris] [3D orbit] [Night Sky Cameras]
NORTHERN LIGHTS: A solar wind stream hit Earth last night sparking auroras so bright they pierced the glare of the year's brightest Moon. Geir Oye sends this picture from Ørsta, Norway: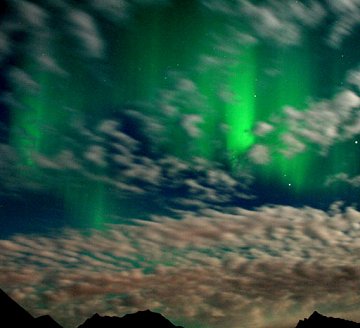 The display has subsided, but it could flare up again. Solar wind continues to buffet Earth's magnetic field; high-latitude sky watchers should remain alert for auroras.
October 2007 Aurora Gallery
[September Gallery] [Aurora Alerts]