| | | |
| --- | --- | --- |
| NEW AND IMPROVED: Turn your iPhone or iPod Touch into a field-tested global satellite tracker. The Satellite Flybys app now works in all countries. | | |
MORNING STAR: A bright new star has appeared in the morning sky. It's Jupiter, just now emerging from a weeks-long conjunction with the sun. "Here's an image of Jupiter rising above the lighthouse at Cape Byron, the most easterly point on the Australian mainland," says Stephen Mudge of Byron Bay. The giant planet is best seen at the crack of dawn. If you're up at that hour, take a look.
SUNSPOT 1057: New sunspot 1057 has almost doubled in area since it first appeared yesterday. With a pair of dark cores each larger than planet Earth, the growing active region is an easy target for amateur solar telescopes: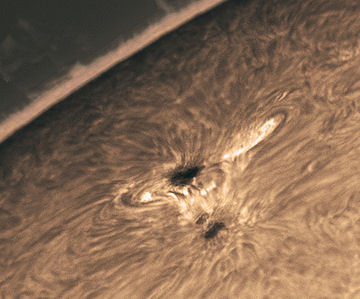 Rogerio Marcon took the picture on March 24th from his backyard observatory in Campinas, Brazil. The swirling magnetic fields evident in the image harbor energy for C-class eruptions. The active region has already hurled one coronal mass ejection (CME, movie) into space and more could be in the offing. Stay tuned.
more images: from Monika Landy-Gyebnar of Veszprem, Hungary; from John Minnerath of Crowheart, Wyoming; from Wouter Verhesen of Sittard, The Netherlands; from Pete Lawrence of Selsey, West Sussex, UK; from Peter Paice of Belfast, Northern Ireland; from Pavol Rapavy of Observatory Rimavska Sobota, Slovakia; from John C McConnell of Maghaberry Northern Ireland;
FINNMARKSLOPET: You've heard of the Iditarod. But do you know about the Finnmarksløpet? "Finnmarksløpet is the world's northernmost sled dog race and the longest in Europe," explains Kerstin Langenberger of Finnmark, Norway. "It was held this year in mid-March. Every night auroras could be seen - it was awesome!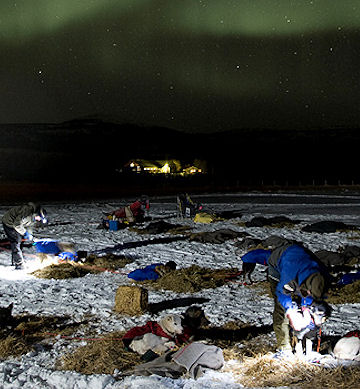 "Most of the time I was busy helping at the race, but at the Sirma checkpoint I managed to photograph some auroras dancing right above a few of the teams that were having a few hours of well-deserved rest," says Langenberger.
Indeed, March 2010 has been one of the busiest months in years for Arctic Lights. It's a sign that the sun is waking up from a long slumber. For the record, the 1019 km race was won on March 18th by Ralph Johannessen. He and his dogs crossed the finish line in only 5 days, 8 hours and 58 minutes ... under green skies, of course.
March Northern Lights Gallery
[previous Marches: 2009, 2008, 2007, 2006, 2005, 2004, 2003]