| | | |
| --- | --- | --- |
| NEW AND IMPROVED: Turn your iPhone or iPod Touch into a field-tested global satellite tracker. The Satellite Flybys app now works in all countries. | | |
AN AVALANCHE OF DARK ASTEROIDS: Every day, a NASA infrared space telescope named "WISE" is discovering dozens to hundreds of previously unknown asteroids. The observatory is making a remarkable contribution to the census of dark space rocks that could potentially threaten Earth: full story.
SUNSPOT CONJUNCTION: Yesterday in Cape Elizabeth, Maine, astrophotographer John Stetson and his son Peter observed a very rare event--a sunspot-space station conjunction: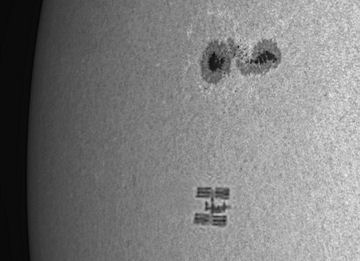 Photo details: 5-inch AP refractor, Baader solar filter, Luminera 2-0 camera
"We knew when to look thanks to a prediction from CalSky," says Stetson. "The International Space Station transited the solar disk in only 0.62 seconds. We managed to catch the station's silhouette just as it was passing sunspot 1057." Stetson has been photographing solar transits for years; he ranks this one as "the best yet."
As far as we know, this is the first time the ISS has been observed in conjunction with a big sunspot. Next up: How about a sunspot-space station eclipse? It is possible to anticipate such an event because CalSky shows sunspots in their transit prediction graphics. Astrophotographers, check the web site for opportunities.
more images: from Monika Landy-Gyebnar of Veszprem, Hungary; from John Minnerath of Crowheart, Wyoming; from Wouter Verhesen of Sittard, The Netherlands; from Pete Lawrence of Selsey, West Sussex, UK; from Peter Paice of Belfast, Northern Ireland;
FINNMARKSLOPET: You've heard of the Iditarod. But do you know about the Finnmarksløpet? "Finnmarksløpet is the world's northernmost sled dog race and the longest in Europe," explains Kerstin Langenberger of Finnmark, Norway. "It was held this year in mid-March. Every night auroras could be seen - it was awesome!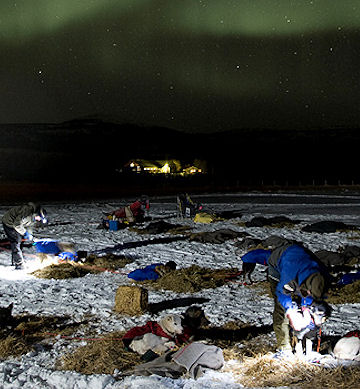 "Most of the time I was busy helping at the race, but at the Sirma checkpoint I managed to photograph some auroras dancing right above a few of the teams that were having a few hours of well-deserved rest," says Langenberger.
Indeed, March 2010 has been one of the busiest months in years for Arctic Lights. It's a sign that the sun is waking up from a long slumber. For the record, the 1019 km race was won on March 18th by Ralph Johannessen. He and his dogs crossed the finish line in only 5 days, 8 hours and 58 minutes ... under green skies, of course.
March Northern Lights Gallery
[previous Marches: 2009, 2008, 2007, 2006, 2005, 2004, 2003]