NEW SUNSPOT: A new sunspot numbered 1029 is emerging in the sun's northern hemisphere. Magnetic maps of the spot identify it as a member of new Solar Cycle 24. Readers with solar telescopes, now is the time to see sunspot genesis in action.
NORTHERN LIGHTS: A solar wind gust hit Earth's magnetic field on Oct. 21st and the reverberations lasted for more than two days. Geomagnetic activity turned the skies over Tromsø, Norway, vivid green. "It's an easy and pleasant job to be a Northern Lights guide under these conditions," says Kjetil Skogli, who recorded this self-portrait on Oct. 22nd using his Canon 5D: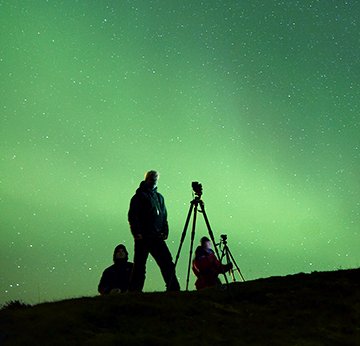 "The Orionid meteor shower was still active, too, and we saw some very nice meteors through the Northen Lights," he says.
More auroras could be in the offing. A solar wind stream is heading toward Earth and could reenergize the display when it arrives this weekend. Polar sky watchers should be alert for Northern Lights.
October Northern Lights Gallery
[previous Octobers: 2008, 2007, 2006, 2004, 2003, 2002, 2001]
ORIONID ACTIVITY CONTINUES: Amazingly, the Orionid meteor shower hasn't stopped. Three full days after the shower began, international observers are still counting as many as 40 meteors per hour during the dark hours before dawn. Here's one zipping through green Northern Lights over Trondheim, Norway, on Oct. 23rd: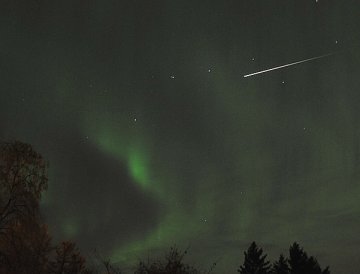 "I caught the meteor during a 4 second exposure with my Nikon D300," says photographer Bence Frenyo.
Orionids are bits of debris from Halley's Comet, and this year the debris cloud seems to be extra-wide. Earth is taking days to move through it. Researchers believe the cloud we're passing through now is actually a complex of three dusty streams laid down by the comet ~3000 years ago. This debris has been drifting toward Earth and spreading out for three millennia--arriving just in time for the 2009 Orionid meteor shower. Enjoy it while it lasts!
2009 Orionid Photo Gallery
[full story] [sky map] [previous years: 2006, 2008]
---