MONDAY NIGHT SKY SHOW: When the sun sets on Monday, Oct. 26th, go outside and look south. Jupiter and the Moon are converging for a beautiful conjunction. The bright pair can been seen even through thinly-clouded skies and city lights. Don't miss it: sky map.
GROWING SUNSPOT: The sun is showing signs of life. Sunspot 1029 emerged this weekend, and it is crackling with B- and C-class solar flares. This movie from the Solar and Heliospheric Observatory (SOHO) chronicles the sunspot's rapid development from Oct. 23rd through 25th:

The sunspot's magnetic polarity identifies it as a member of new Solar Cycle 24. If its growth continues apace, sunspot 1029 could soon become the biggest sunspot of 2009. Readers with solar telescopes are encouraged to monitor developments.
sunspot images: from Mike Borman of Evansville, Indiana; from Emiel Veldhuis of Zwolle, the Netherlands; from Vahan Yeterian of Lompoc California; from Fabio Acquarone of Genova, Liguria, Italy; from Jan Timmermans of Valkenswaard, The Netherlands; from Paul Haese of Blackwood, South Australia; from Richard Best of Lewes, East Sussex. UK; from Bruno Nolf of Otegem, Belgium
NORTHERN LIGHTS: A solar wind gust hit Earth's magnetic field on Oct. 21st and the reverberations lasted for more than two days. Geomagnetic activity turned the skies over Tromsø, Norway, vivid green. "It's an easy and pleasant job to be a Northern Lights guide under these conditions," says Kjetil Skogli, who recorded this self-portrait on Oct. 22nd using his Canon 5D: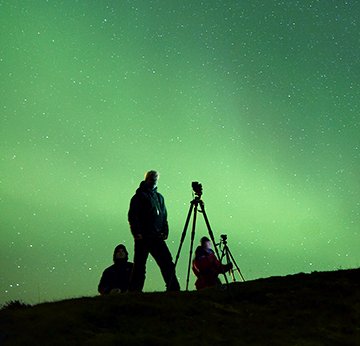 "The Orionid meteor shower was still active, too, and we saw some very nice meteors through the Northen Lights," he says.
More auroras could be in the offing. A solar wind stream is heading toward Earth and could reenergize the display when it arrives this weekend. Polar sky watchers should be alert for Northern Lights.
UPDATED: October Northern Lights Gallery
[previous Octobers: 2008, 2007, 2006, 2004, 2003, 2002, 2001]
---
2009 Orionid Photo Gallery
[full story] [sky map] [previous years: 2006, 2008]
---