NEW SUNSPOT: The Solar and Heliospheric Observatory (SOHO) is monitoring a sunspot now forming in the sun's northern hemisphere. The spot's high latitude and magnetic polarity identify it as a member of new Solar Cycle 24. Readers, if you have a solar telescope, now is the time to watch sunspot genesis in action.
COMET LULIN AT ITS BEST: Today, Feb. 24th, Comet Lulin is making its closest approach to Earth. The speedy green comet is about 38 million miles away and a fine target for backyard telescopes. In fact, the comet is so bright, around 5th magnitude, a camera may be all the optics you need. Consider this photo of Comet Lulin passing by Saturn last night: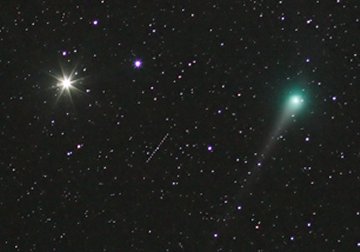 Joe Wheeler of Fort Davis, Texas, took the picture using a Canon XSi. "I mounted the camera on the back of a 16-inch telescope at the McDonald Observatory and opened the shutter for a two-minute exposure." The telescope tracked the stars and the camera did the rest. "Look between Saturn and the comet," points out Wheeler. "I think I caught a tumbling satellite."
The next 24 hours could be an interesting time for Comet Lulin. The comet is going to line up almost perfectly with the Sun and Earth as follows: Sun-Earth-Lulin. This could make the dust in the comet's tail briefly but significantly increase in brightness--a phenomenon astronomers call "the opposition effect." So don't stop watching; the best may be yet to come. Feb. 25th sky map.
UPDATED: Comet Lulin Photo Gallery
[Comet Hunter Telescope] [Sky maps: Feb. 22, 23, 24, 25]
NEW ZEALAND SUNDOGS: Sundogs normally travel in pairs, but on Feb. 20th, Graham Palmer of Hastings, New Zealand, came upon a larger pack: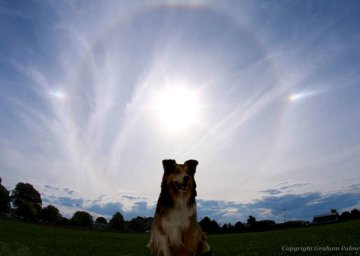 Photo details: Canon 40D, ISO 100, 1/250th second, 15mm fisheye lens
"I went for a walk in the park to catch two nice sundogs, but was surprised to see a third," says Palmer, who recorded the gathering using his Canon 40D.
Sundogs (the ones in the sky) are caused by sunlight shining through ice crystals in high clouds. Even during a warm New Zealand summer, these crystals are present; it's always freezing cold 5 to 10 km above the ground where cirrus clouds float in front of the sun.
So, no matter where you live, no matter what the season, be alert for sundogs, furry and icy. You might find more than you bargained for....
more images: from Rob Kleeman of Niles, Illinois; from Ken Scott on the shore of Lake Michigan; from Andrew Shaidurov at the Bukovel ski resort in the Ukraine; from Cheryl Heassig of Waukesha, Wisconsin; from Monika Landy-Gyebnar of Veszprem, Hungary
---
February 2009 Aurora Gallery
[Previous Februaries: 2008, 2007, 2006, 2004, 2003, 2002]
---