OTHERWORLDLY SOLAR ECLIPSE: For the first time, a spacecraft from Earth has captured hi-resolution video of a solar eclipse while orbiting another world. Get the full story from Science@NASA.
DOOMED SATELLITE: NASA's Orbiting Carbon Observatory (OCO) blasted off from California's Vandenberg Air Force Base on Feb. 24th around 1:55 in the morning Pacific Time. An all-sky camera in nearby Santa Barbara captured the early stages of what would prove to be a doomed flight:
"We photographed the launch using an AllSky-340C mounted on our roof," says Matt Thomas of Santa Barbara Instrument Group. "It monitors the sky 24/7, and you can see live images here."
Unfortunately, OCO never made it to Earth orbit. After the satellite left the field of view, above, it failed to separate from its Taurus XL launch vehicle. The stuck-together pair splashed down in the icy waters near Antarctica. Climate scientists are calling the loss a "serious setback" in their efforts to identify our planet's carbon sinks and solve the mystery of missing carbon--the 30% of human-produced carbon dioxide that disappears into unknown places. A NASA panel has been convened to investigate the mishap.
THE GREAT GREEN Q-TIP: For weeks, Comet Lulin has sported a wispy tail of electric-blue ionized gas emerging from the comet's head like a shock of unruly hair: image. Today, that tail is gone: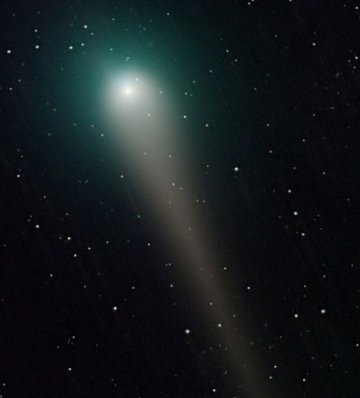 "I couldn't detect the ion tail even in a deep 24-minute exposure," reports astrophotographer John Nassr, who took the picture on Feb. 24th from his private observatory in the Philippines.
Comet Lulin now resembles a great green Q-tip!
A three-day sequence of photos by Nassr reveals what happened: Apparently, a gust of solar wind disrupted the comet's gossamer ion tail. Meanwhile, the comet's heavier, spike-shaped dust tail was not noticeably disturbed. This has happened at least twice before in January and February, and each time the ion tail rapidly grew back.
A lot is happening on Comet Lulin. Stay tuned for updates.
UPDATE: A high-contrast movie of Comet Lulin recorded on Feb. 25th by Filipe Alves of Portugal shows filamentary remnants of the ion tail still attached to the comet. Play it!
Comet Lulin Photo Gallery
[Comet Hunter Telescope] [Sky maps: Feb. 25, 26]
---
February 2009 Aurora Gallery
[Previous Februaries: 2008, 2007, 2006, 2004, 2003, 2002]
---