| | | |
| --- | --- | --- |
| SATELLITE FLYBYS APP: Turn your iPhone or iPod into a field-tested satellite tracker! Spaceweather.com presents the Satellite Flybys app. | | |
DARK ASTEROID DISCOVERY: NASA's newest space telescope, the Wide-field Infrared Survey Explorer (WISE), is expected to be an excellent hunter of dark asteroids. On Jan. 12th, WISE made its first catch--a kilometer-class space rock named 2010 AB78. If researchers are correct, this is just the first of hundreds of near-Earth objects and hundreds of thousands of main belt asteroids that WISE is capable of finding. Get the full story from JPL.
LOW-FLYING SPACESHIP: Amateur astronomers have long known that the International Space Station looks great through a backyard telescope. Lately, it looks even better than usual. "For imaging fine detail on the space station, now is the right time because the ISS has descended to about its lowest orbital height," explains Ralf Vandebergh of the Netherlands. "I took this picture through my 10-inch telescope on Jan. 14th."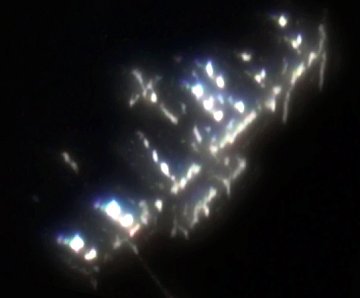 "Normally, the station's four big solar panels are the most obvious elements visible from Earth, but in this picture they are almost invisible due to the lighting angle," he adds. "What the picture does show is the integrated truss structure, the backbone of the ISS in full-length with lots of detail."
The ISS is extremely bright--like Venus or Jupiter--and it moves slowly enough to follow with optics. Indeed, Vandebergh prefers to hand-track his telescope when photographing the ISS. Check the Simple Satellite Tracker for flybys! (The satellite tracker is now available for the iPhone, too.)
CLOSE ENCOUNTER WITH MARS: Earth and Mars are converging for a close encounter. On Jan. 27th, the Red Planet will be only 99 million kilometers (0.66 AU) away, appearing bigger through a telescope (14.1 arcseconds) than anytime from 2008 until 2012.The view is already excellent, as shown in these images taken on Jan. 21st by Efrain Morales Rivera of Aguadilla, Puerto Rico: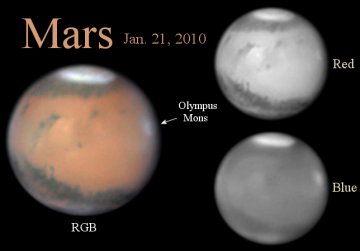 "I had a good observing session with my 12-inch Meade LX200," reports Rivera. "I was able to image not only the Martian polar cap, but also some icy orographic clouds over Olympus Mons, the largest volcano in our solar system."
You don't need a telescope, however, to enjoy the close encounter. Pumpkin-colored Mars is very easy to see with the unaided eye. It rises in the east at sunset and soars overhead at midnight, outshining every star in its patch of sky. Check it out!
more images: from Torsten Hansen of Bavaria, Germany; from Pete Lawrence of Selsey, West Sussex, UK; from Troy Tranter of Kurri, Australia; from Joel Warren of Amarillo, TX
---
January Northern Lights Gallery
[previous Januarys: 2009, 2008, 2007, 2005, 2004, 2001]
---
Solar Eclipse Photo Gallery
[World Map of Eclipse Sightings]