| | | |
| --- | --- | --- |
| SATELLITE FLYBYS APP: Turn your iPhone or iPod into a field-tested satellite tracker! Spaceweather.com presents the Satellite Flybys app. | | |
APPROACHING MARS: Earth and Mars are about to have a close encounter. On Jan. 27th, the Red Planet will be only 99 million kilometers away and look bigger through a telescope than at any time between 2008 and 2012. [sky map] [photos: #1, #2, #3]
QUIET SUNSPOTS: There are two sunspots on the Earth-facing side of the sun today, AR1041 and AR1042, but neither one is threatening to produce strong solar flares. Here is what a "quiet" sunspot looks like: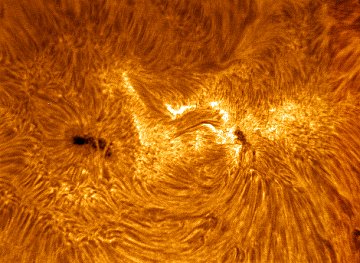 Rogerio Marcon of Campinas, Brasil, took this picture of sunspot 1041 on Jan. 24th. It's a beautiful sight--quiet or not.
"Sunspot 1041 is huge, influencing a vast region of the sun's atmosphere," adds Pete Lawrence of Selsey, UK, who sends his own snapshot. "It has lots of lovely dark filaments and fibrils to view as well." Readers with solar telescopes are encouraged to take a look.
more images: from Eric Roel of Valle de Bravo, Estado de México; from John Minnerath of Crowheart Wyoming; from Pavol Rapavy of Observatory Rimavska Sobota, Slovakia; from Matt Wastell of Brisbane, Australia
LOW-FLYING SPACESHIP: Amateur astronomers have long known that the International Space Station looks great through a backyard telescope. Lately, it looks even better than usual. "For imaging fine detail on the space station, now is the right time because the ISS has descended to about its lowest orbital height," explains Ralf Vandebergh of the Netherlands. "I took this picture through my 10-inch telescope on Jan. 14th."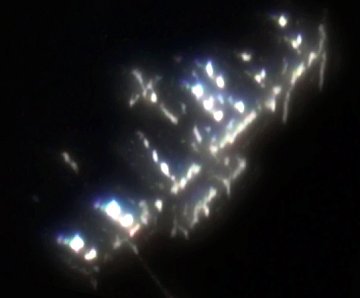 "Normally, the station's four big solar panels are the most obvious elements visible from Earth, but in this picture they are almost invisible due to the lighting angle," he adds. "What the picture does show is the integrated truss structure, the backbone of the ISS in full-length with lots of detail."
The ISS is extremely bright--like Venus or Jupiter--and it moves slowly enough to follow with optics. Indeed, Vandebergh prefers to hand-track his telescope when photographing the ISS. Check the Simple Satellite Tracker for flybys! (The satellite tracker is now available for the iPhone, too.)
more images: from Bum-Suk Yeom of Daejeon, South Korea; from Pete Lardizabal of St Johns, Florida;
---
January Northern Lights Gallery
[previous Januarys: 2009, 2008, 2007, 2005, 2004, 2001]
---
Solar Eclipse Photo Gallery
[World Map of Eclipse Sightings]