METEOR SHOWER UPDATE: The Orionid meteor shower is subsiding, but it's not done yet. International observers are still reporting as many as 25 Orionids per hour as Earth exits the debris stream of Halley's Comet. Readers, if you are up before dawn, keep an eye on the sky for last-minute Orionids. [sky map] [gallery]
GEOMAGNETIC ACTIVITY: High-latitude sky watchers should be alert for Northern Lights. A sharp gust of solar wind hit Earth on Oct. 21st, and the Arctic Circle is still ringing with geomagnetic activity. "[We had a] stunning display of active auroras last night," reports Thomas Hagen, who sends this picture from Tromsø, Norway: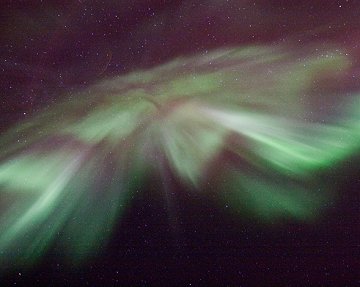 "The entire sky turned green and stayed green for much of the night," adds Fredrik Broms of Kvaløya, Norway.
The solar wind gust that sparked the display is interesting because it likely originated with a spotless explosion in the Sun's southern hemisphere on Oct. 17th: movie. The blast hurled a faint coronal mass ejection (CME) toward Earth. Normally, CMEs reach Earth in only 2 or 3 days, but this one took a leisurely 4 days to cross the Sun-Earth divide. Why so long? Since solar minimum began in ~2007, solar physicists have noticed that CMEs have been moving in slow motion. They take a long time to get here, and they don't hit very hard when they arrive. Nevertheless, this one managed to spark some nice auroras. Browse the gallery for more.
October 2009 Northern Lights Gallery
[previous Octobers: 2008, 2007, 2006, 2004, 2003, 2002, 2001]
LOOK AT THE MOOOOON: "Last night while traveling through the Black Forest, we saw some cows on a hill with the crescent Moon behind," says German photographer Achim Schaller. "I laid down on the meadow with my Nikon D700 and photographed the close encounter."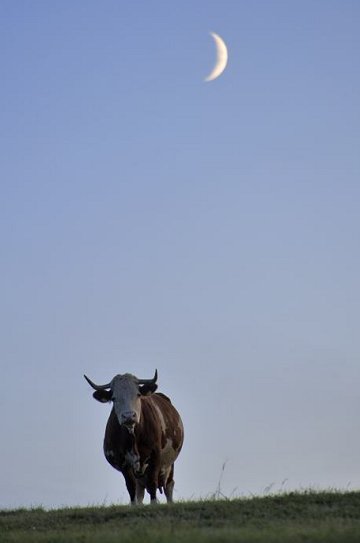 Another close encounter is just around the corner. The Moon is moving away from the cows of the Black Forest and toward the king of planets. Look for Jupiter and the Mooooon side by side on Monday evening, Oct. 26th: sky map.
---
2009 Orionid Photo Gallery
[full story] [sky map] [previous years: 2006, 2008]
---