LUNAR FLYBY UPDATE: NASA says this morning's LCROSS flyby of the Moon was a success and a video of the encounter is now available. The gravity assist maneuver put LCROSS in an elongated Earth orbit and on course for impact at the lunar south pole later this year. NASA planners hope the intentional collision will reveal subsurface deposits of water useful to future human explorers.
SUNSPOT WATCH: Yesterday, in a moment of rare extravagance, the sun produced two spots. Today, one of them, sunspot 1022, is fading away. The other, sunspot 1023, is still going strong: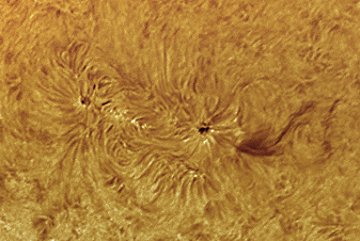 Amateur astronomer Jacob Bassøe took the picture hours ago from his backyard observatory in Copenhagen, Denmark. "It is a nice bipolar sunspot with a bushy dark filament emerging from one of the cores," he says.
The magnetic polarity of sunspot 1023 identifies it as a member of new Solar Cycle 24. Its appearance coincides with the movement of two solar jet streams into a range of heliographic latitudes that promotes sunspot formation. No one knows exactly how the sun's deep jet streams boost the sunspot count, but they do. As a result, this week's sunspot activity might herald more to come. Stay tuned for updates.
more images: from Pete Lawrence of Selsey, West Sussex, UK; from Didier Favre of Brétigny-sur-orge, France; from Michael Buxton of Ocean Beach, California; from Peter Paice of Belfast, Northern Ireland
HAPPY MAORI NEW YEAR: Today, June 24th, people across New Zealand are celebrating a new year--the Maori New Year. It's a tradition that stretches back many hundreds of years. To understand it, regard this photo taken at the crack of dawn on June 21st by Andy Dodson of Huirangi, New Zealand: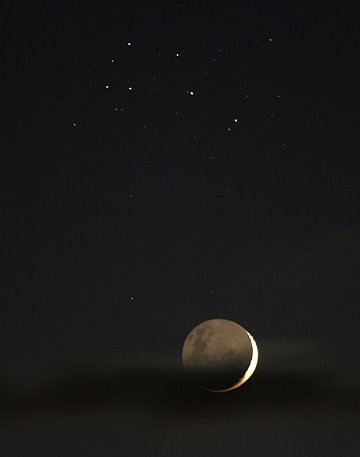 At the top of the photo we see the Pleiades, known to the Maori as Matariki. "Traditionally, the first new moon after the appearance of Matariki in the dawn sky was taken as the start of the Maori New Year, or 'Te Whetu o te Tau,'" explains Dodson.
Different tribes had slightly different customs. Some held festivities when Matariki was first seen in the dawn sky; others celebrated after the full moon rose or at the beginning of the next new moon. Around Auckland, the Maori New Year of 2009 is being celebrated from June 24 to July 24 with a program of events showcasing Maori culture. At the Te Papa national museum in Wellington, the Matariki Festival is being held from June 25 to July 12.
Details, details... Happy Maori New Year!
---
2009 Noctilucent Photo Gallery
[previous years: 2008, 2007, 2006, 2005, 2004, 2003]
---