LUNAR FLYBY: Tomorrow morning, NASA's LCROSS spacecraft will fly by the Moon only 9,000 km above the lunar surface. The purpose of the encounter is to put LCROSS in an elongated Earth orbit and position it for impact at the lunar south pole later this year. Live video streaming of the flyby begins at approximately 5:20 AM PDT on Tuesday, June 23, 2009. Click here to watch.
MIDNIGHT SUN: Helene S. of Gildeskål, Norway, didn't need a calendar to tell her summer had arrived. She just looked out the window at midnight and saw this: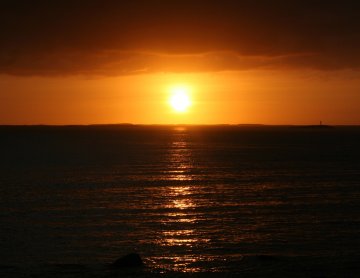 "On June 21st, the summer solstice, I photographed the midnight sun using my Canon 350D," she says. "The view was amazing."
At a latitude of 67o N, Gildeskål is almost half a degree above the Arctic Circle, and so the sun won't set again until mid-July. That's a long time without stars or auroras, but oh! the midnight photo-ops. Stay tuned for more.
NEW SUNSPOTS: Since 2007, it has been unusual to see even a single spot on the sun. Today there are two. Jacob Bassøe photographed them this morning from his backyard observatory in Copenhagen, Denmark: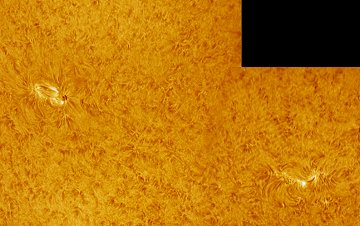 The magnetic polarity of the two spots identifies them as members of new Solar Cycle 24. Their appearance coincides with the movement of two solar jet streams into a range of heliographic latitudes that promotes sunspot formation. No one knows exactly how the sun's deep jet streams boost the sunspot count, but they do. As a result, these tiny spots might herald more to come. Stay tuned for updates.
more images: from Pete Lawrence of Selsey, West Sussex, UK; from Didier Favre of Brétigny-sur-orge, France; from Michael Buxton of Ocean Beach, California
---
UPDATED: 2009 Noctilucent Photo Gallery
[previous years: 2008, 2007, 2006, 2005, 2004, 2003]
---