URSID METEORS: Earth is passing through a stream of debris from comet 8P/Tuttle and this is causing the annual Ursid meteor shower. Forecasters expect the Ursids to peak on Dec. 22nd with 8 to 10 meteors per hour flying out of the constellation Ursa Minor (the Little Dipper). The display is usually mild, but outbursts of Ursids occasionally surprise observers with rates many times normal.
Watching these northern meteors can be a chilling experience, so why not stay inside and listen to them instead? Spaceweather.com is broadcasting live audio from the Air Force Space Surveillance Radar in Texas. When a meteor passes over the radar--"ping"--there is an echo. Give it a try; feedback is welcomed.
MIDNIGHT VISITATION: In a remote area of New Mexico, amateur astronomer Thomas Ashcraft operates an all-sky camera for nightly monitoring of meteors and fireballs. "The other night I caught a big one," he says. Click on the image to play the movie: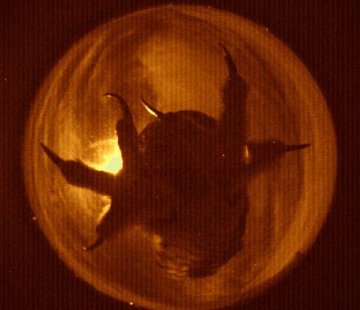 "An owl descended from the sky and landed on the clear dome of my fireball camera," explains Ashcraft. "It stayed for a few minutes and then flew away." This visitor was probably a Western Screech-Owl or a Great Horned Owl, two varieties common to New Mexico. Ornithologists may be able to pinpoint the species; the owl glances down during the video for a revealing self-portrait.
Bright meteors turn out to be far more common than visiting owls. Browse Ashcraft's fireball catalog for a typical night's catch.
SUNDOG ALERT: Winter weather storming across the northern USA and Canada is filling the air with ice and filling the sky with ice haloes. "These sundogs appeared during our ground blizzard yesterday," reports Steve Yezek of Grafton, Iowa: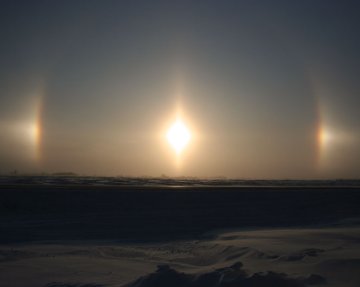 "It was very cold outside with temperatures below zero, and there were strong, gusting winds," he says.
Similar conditions in Omaha, Nebraska, produced a double halo around the sun. In addition, onlooker Tyler Burg witnessed "sundogs, a segment of a supralateral arc, and an upper tangent arc that persisted for the better half of 4 hours. It was a nice display."
Readers, if it's cold where you live, bundle up, go outside, and look at the sky. The sundogs are barking!
more images: from Alain Turgeon in the La Vérendrye wildlife reserve of northern Quebec; from Sally J Smith of Wadhams, New York; from Mark Poe of Aberdeen, South Dakota;
---
Dec. 2008 Aurora Gallery
[Previous Decembers: 2007, 2006, 2005, 2001, 2000]