SATURN'S CRAZY CHRISTMAS TILT: The planet Saturn is doing something rare and beautiful this holiday season. Find out what in today's story from Science@NASA.
COLD SHOWER: Every year on Dec. 22nd, the Ursid meteor shower puts on a mild but pleasing show. Almost no one watches, and here's why: "Last night was the coldest night of the year with wind chills near -30 F," reports John Chumack of Dayton, Ohio. "I could not stay outside more than 10 minutes at a time." Nevertheless, he did manage to photograph a few Ursids: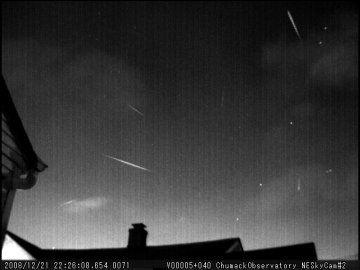 "I hope others who braved the cold saw some, too," he says.
Several thousand people decided to stay inside and listen. Spaceweather.com is broadcasting a live audio feed from the Air Force Space Surveillance Radar in Texas. When a meteor passes over the facility--"ping"--there is an echo. Listeners say the Ursids put on a nice radio show with as many as dozens of pings per hour.
Another cold shower is coming: the Quadrantids. Much stronger than the Ursids, the Quadrantids could produce 100+ meteors per hour when the shower peaks over western North America on the morning of Jan. 3, 2009. It's going to be cold outside and the Spaceweather meteor radar will be running. Stay tuned.
more images: from P-M Hedén of Ålbo, Sweden; from Brian Emfinger of Ozark, Arkansas; from Doug Zubenel at Pottawatomie State Fishing Lake, Kansas;
INDUSTRIAL GRADE DIAMOND DUST: "A few mornings ago, I was driving to work on Green Bay's highest bridge when a mixture of fog and emissions from local smokestacks drifted across the highway," reports Peg Zenko from Wisconsin. "Traffic slowed to a crawl. I looked up in my rearview mirror and noticed this beautiful sun pillar."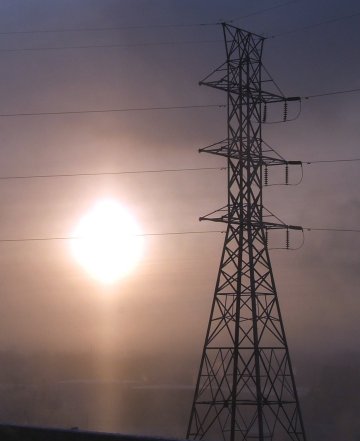 "I call the photo Industrial Grade Diamond Dust," she says.
Diamond dust is a fanciful name for low-temperature ice crystals floating close to the ground. "The air temperature over the bridge was only -9 F," notes Zenko, "and winds were mild." These conditions caused water vapor in the smog to crystallize and hover at traffic-level. The crystals caught the rays of the rising sun and voilà--a sun pillar!
Winter weather storming across Canada and the northern USA is setting the stage for some wonderfully icy displays. There are sun pillars, sundogs, 22o haloes and a variety of luminous arcs. "I suggest pulling to the side of the road," says Zenko. Diamond dust can be very distracting!
more images: from Dave Boyle of Edmonton, Alberta, Canada; from Gary Cobus near Belle Plain, Minnesota;
---
Dec. 2008 Northern Lights Gallery
[Previous Decembers: 2007, 2006, 2005, 2001, 2000]