HAPPY EQUINOX: Today, Sept. 22nd at 2118 UT (5:18 pm EDT), the sun crosses the celestial equator. This event marks the beginning of autumn in the northern hemisphere and spring in the southern hemisphere. It's also the beginning of aurora season around the poles. Happy equinox!
SUNSPOT UPDATE: A second sunspot is emerging to join the one reported below: SOHO image. This is the first time in more than a year that two relatively-large sunspots have shared the Earth-facing side of the sun.
SUNSPOT 1026: One sunspot is not enough to end the deepest solar minimum in nearly a century, but you've got to start somewhere. "Finally, a new sunspot!" says Paul Maxson who sends this picture from his observatory in Surprise, Arizona: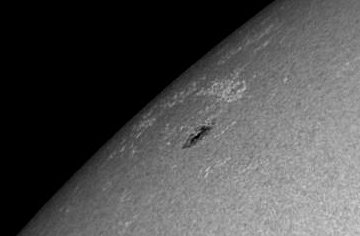 Sunspot 1026 emerged yesterday to break a string of 19 consecutive spotless days. It's about as wide as Earth, which makes it an easy target for backyard solar telescopes. The Solar and Heliospheric Observatory (SOHO) has measured the spot's magnetic polarity and identified it as a member of new Solar Cycle 24. Could this be a harbinger of more to come? (Apparently so.) Stay tuned.
more images: from Pete Lawrence of Selsey, West Sussex, UK; from Michał Nyklewicz of Poland; from Athanasios Georgiou of Filyro, Greece; from Jan Koeman of Kloetinge, The Netherlands; from Peter Paice of Belfast, Northern Ireland; from Emiel Veldhuis of Zwolle, the Netherlands; from Alan Friedman of Buffalo, NY; from Eva Vidovic of Stojnci, Slovenia; from A.Cote, W. Frame and John Stetson of South Portland, Maine.
LAST SUNSET OF SUMMER: Last night in Florida, summer came to an end in a flash of green. "My wife and I drove to Clearwater Beach beach to photograph the sunset," says Don Roberts. "I had never seen a green flash before and was excited to see and shoot a real beauty as my first." He used a Canon 50D to record the moment: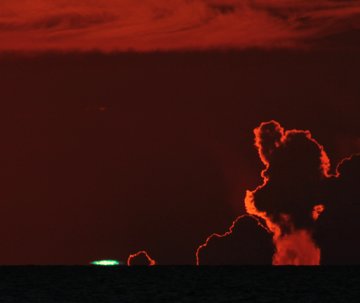 The green flash is a mirage. It occurs when there is warm air immediately over the ocean waters and the air temperature changes rapidly with height. These conditions magnify the usually-subtle prismatic refraction of the low atmosphere into an exuberant explosion of emerald green.
What kind of sunsets will autumn bring? Tonight brings the first; take a look!
BONUS SHOTS: from Miguel Claro of Capuchos, Almada Portugal; from George N Huftalen at the Connecticut Star Party in Ashford, CT; from Tamas Ladanyi of Castor Observatory, Veszprem - Hungary; from Ken Scott of Leland, Michigan
---
Sept. 2009 Aurora Gallery
[previous Septembers: 2008, 2007, 2006, 2005, 2004, 2002, 2001]
---