SHUTTLE ARRIVES IN FLORIDA: Space shuttle Discovery, riding atop a 747 Shuttle Carrier Aircraft, landed at the Shuttle Landing Facility at NASA's Kennedy Space Center at 12:05 p.m. EDT, ending the two-day, 2,500-mile ferry flight from Edwards Air Force Base in California. Scenes from the trip: from Darren Trizzino of Fort Worth, Texas; from Jack Easterwood of Shreveport, Louisiana; from Tom King of Fort Worth, Texas; from Joel Warren of Amarillo, Texas;
EMERGING SUNSPOT: Today, a new sunspot is emerging over the sun's eastern limb. It doesn't appear to be the solar minimum-breaking behemoth some observers had hoped for, but it is the first sunspot in almost three weeks and a welcome break from the quiet. Astrophotographer Pete Lawrence sends this picture from his backyard observatory in Selsey, UK: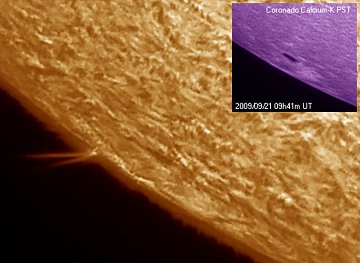 The high southern latitude of the spot identifies it as a member of new Solar Cycle 24. We'll get a better view later today as the sun's rotation turns the active region more squarely toward Earth. Readers with solar telescopes are encouraged to monitor developments.
more images: from Emiel Veldhuis of Zwolle, the Netherlands; from Alan Friedman of Buffalo, NY; from Eva Vidovic of Stojnci, Slovenia; from A.Cote, W. Frame and John Stetson of South Portland, Maine; from CJ Wood of Ridgely, Maryland
SATURDAY NIGHT LIGHT SHOW: The phones started ringing around 7:30 pm EDT on Saturday night, Sept. 19th. All along the US Atlantic seaboard, police stations and news desks received reports of strange lights in the sky. John A. Blackwell of Exeter, New Hampshire, snapped this picture of the phenomenon: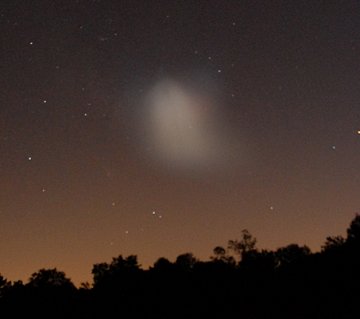 "It was an impressive display," says Blackwell. "To the naked eye, it was visible for about a minute."
It looks like a passing comet or a giant, luminous amoeba. But this was pure rocket science. The cloud was created by a Black Brant XII sounding rocket launched from NASA's Wallops Flight Facility in Virginia. The rocket released a cloud of electrically-charged aerosols near the top of Earth's atmosphere to investigate the formation of noctilucent clouds or "NLCs." Mysterious NLCs form naturally around Earth's poles during the months of northern summer. On this September evening, researchers decided to see if they could create an artificial NLC at mid-latitudes; it seems to have worked.
Ground-based cameras and radars along the Atlantic coast monitored the experiment while the STPSat-1 satellite watched from Earth orbit. Principal investigators at the Naval Research Lab hope the data will reveal much about the microphysics of noctilucent clouds and the possible role of rockets in creating them.
more images: from Neil Winston of Lusby, Maryland; from Geoff Chester of Alexandria, Virginia; from Greg Piepol near Manassas, Virginia; from Tom McIntyre of Central Park, New York;
---
Sept. 2009 Aurora Gallery
[previous Septembers: 2008, 2007, 2006, 2005, 2004, 2002, 2001]
---