NLC ALERT: "While India and China were enjoying a total solar eclipse, here in Europe we were treated to a sky show of our own," says Tomasz Adam of Staszów, Poland, where the night sky lit up with intense noctilucent clouds (NLCs) on July 21st and 22nd. "It was easily the best display I've ever seen." A similar event last week heralded NLCs in the United States as far south as Nevada, Colorado and Utah. Sky watchers should be alert for more.
AURORA SURPRISE: In the pits of the deepest solar minimum in a century, sky watchers had almost forgotten what Northern Lights looked like. Here they are last night over Lucky Lake, Saskatchewan: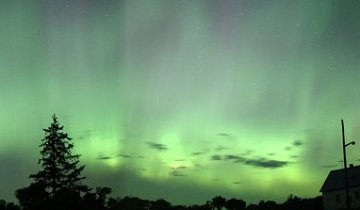 "These are the first auroras I have been able to photograph in more than a year," says Tenho Tuomi. "It was a pleasant surprise."
The display was sparked by a solar wind stream which hit Earth's magnetic field on July 21st. The ensuing geomagnetic storm registered 6 on the 0 to 9 K-index scale of geomagnetic activity. "My magnetometer picked up the disturbance and I rushed outside to see the show," says Tuomi.
July 2009 Northern Lights Gallery
[previous Julys: 2008, 2007, 2006, 2005, 2004, 2003]
TOTAL ECLIPSE: On Wednesday, July 22nd, the Moon eclipsed the midday sun over China. "The temperature dropped from 96.6 F to 88.5F at totality," reports Donald Gardner from Huangshan. "The roosters were crowing and the streetlights came on!" He took this picture of a sun-sliver beaming through lunar mountains: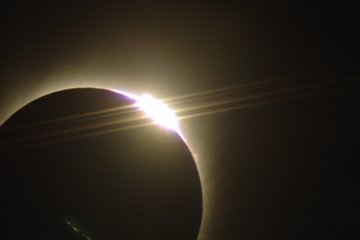 Browse the gallery for more scenes from the path of totality:
UPDATED: July 22nd Eclipse Gallery
[previous eclipses: Jan 26, 2009; Aug. 1, 2008; Mar. 19, 2007]
---
UPDATED: 2009 Noctilucent Photo Gallery
[previous years: 2008, 2007, 2006, 2005, 2004, 2003]
---