JUPITER UPDATE: Four days after it was discovered, the dark mark in Jupiter's cloudtops where an asteroid or comet hit the giant planet is still easy to see through backyard telescopes. Browse these links for recent images: #1, #2, #3, #4, #5, #6.
AURORA SURPRISE: Sometimes the auroras are so bright, you just can't sleep. "I was up all night on July 21st, but it was totally worth it!" says photographer Zoltan Kenwell of Chip Lake, Alberta. This is what kept him awake: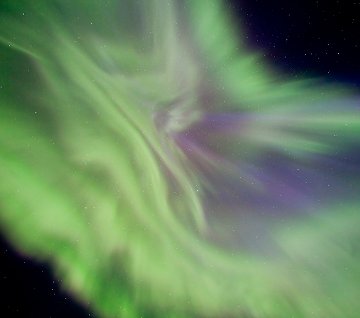 "It was a very impressive show that lasted 4.5 hours!" says Kenwell.
Forecasters did not predict this display. It began on when a seemingly minor solar wind stream hit Earth's magnetic field. The minor hit turned into a not-so-minor display because a crack opened in Earth's magnetic field, allowing solar wind to pour in and fuel the storm. Northern Lights descended as far south as the Dakotas, Montana, Iowa and Wisconsin. The solar wind is still blowing, but the crack has closed, bringing an end to the lights. Until next time, browse the gallery:
UPDATED: July 2009 Aurora Gallery
[previous Julys: 2008, 2007, 2006, 2005, 2004, 2003]
TOTAL SOLAR ECLIPSE: Chasing an eclipse can be a nerve-wracking experience. Just ask Alan Dyer, who on July 21st was sailing through the path of totality in the south Pacific Ocean when clouds began to gather overhead. "The early, partial stages of the eclipse were blocked," says Dyer. "We had to chase into a clear hole to catch this view of totality."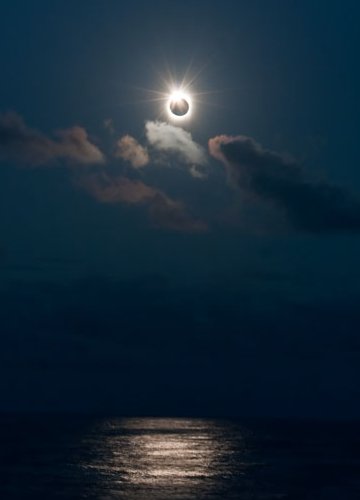 "The sight of the low-hanging Sun in eclipse was spectacular with an impressively large Sun/Moon disk caused by the 'moon illusion' effect," he says. "In the end, we were a happy ship of 300 eclipse chasers!"
UPDATED: July 22nd Eclipse Gallery
[previous eclipses: Jan 26, 2009; Aug. 1, 2008; Mar. 19, 2007]
---
2009 Noctilucent Photo Gallery
[previous years: 2008, 2007, 2006, 2005, 2004, 2003]
---