| | | |
| --- | --- | --- |
| FLYBY ALERT! Space shuttle Discovery launches on May 31st. Get your flyby alerts from Space Weather PHONE | | |
ISS MARATHON: The 2008 "ISS Marathon" is underway . For the next two days, the International Space Station will be in almost constant sunlight. This means sky watchers in Europe and North America can see the spaceship gliding overhead as many as four times each night. When should you look? Click here.
MAGNETIC RAIN: There's a rainstorm underway on the sun's eastern limb. You'd better bring your asbestos umbrella, though, because the "droplets" are Texas-sized blobs of hot plasma: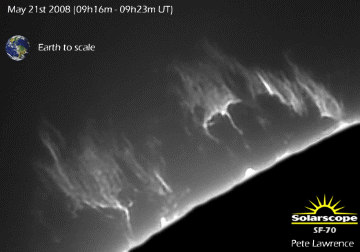 "This is prominence finery at its best," says photographer Pete Lawrence of Selsey, UK. "Small bright points within the prominence that were seen on the capture screen have been recorded as blurs due to the rapid motion of material in just a few seconds!"
Prominences are clouds of hydrogen held above the surface of the sun by magnetic fields. While this particular cloud appears to be raining like a summer shower on Earth, the true situation is more complicated. Look carefully: Some of the plasma raindrops are falling "up." That's because the motions are controlled by not only gravity but also magnetism, a force of little importance in terrestrial rainstorms. The solar magnetic field is rooted below the sun's visible surface; roiling motions in the body of the sun itself cause magnetic fields high overhead to shift, wriggle, and "rain" in all directions. No wonder prominences are so much fun to watch.
more images: from Greg Piepol of Rockville, Maryland; from Stephen Ames of Hodgenville, KY; from Didier Favre of Brétigny sur Orge, France; from Malcolm Park of London, England, UK; from Les Cowley of England;
PARHELIC CIRCLE: While most ice haloes we see go around the sun, there is one that goes right through it: the parhelic circle. "For a few minutes on the afternoon of May 19th, cloud conditions were right to form both a 22° halo around the sun and a perfectly-defined parhelic circle," reports Alan Dyer who took the photo, below, from Alberta Canada. "This produced a sky filled with two intersecting halos--a rare sight."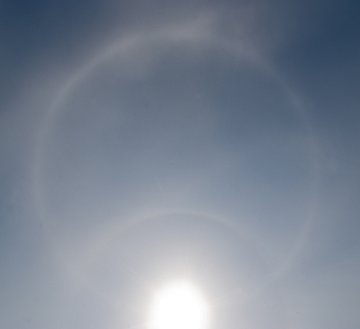 "Now is a good time of year to see parhelic circles because they appear high in the sky," notes atmospheric optics expert Les Cowley. "The altitude of the circle always matches the altitude of the sun, hugging the horizon in winter and rising high overhead in summer. The higher the sun, the smaller is the circle, and it can even shrink smaller than the 22o halo seen crossing it in Dyer's photo. Almost all types of ice crystal carve the parhelic circle, it looks very simple but it is made in more ways than any other halo."
Parhelic circles are pale white like the icy clouds that make them. "Look carefully to distinguish it from white clouds," urges Cowley. "With luck you will see a complete circle."
more images: from Aymen Ibrahem at the Bibliotheca Alexandrina in Alexandria, Egypt; from Enzo De Bernardini of Martínez, Buenos Aires, Argentina; from Stanislaw Rokita of Torun, Poland; from Marco Candotti of Palmanova, Friuli, Italy;
---
April 2008 Aurora Gallery
[Aurora Alerts] [Night-sky Cameras]