| | | |
| --- | --- | --- |
| FLYBY ALERT! Space shuttle Discovery launches on May 31st. Get your flyby alerts from Space Weather PHONE | | |
ISS MARATHON: The 2008 "ISS Marathon" is underway. For the next 24 hours, more or less, the International Space Station will be in almost constant sunlight. This means sky watchers in Europe and North America can see the spaceship gliding overhead as many as four times in a single night. When should you look? Click here.
sightings: from Amir Hossein Abolfath of Vana, Mazandaran, Iran; from Jayme Hanzak of Cedar Grove, North Carolina; from Phillip Chee of Peterborough, Ontario, Canada
MARS IN THE HIVE: "Mars has entered the realm of Beehive star cluster," reports Babak Tafreshi from the Alborz Mountains of Iran. "The conjunction is a beautiful scene even with smallest binoculars and modest telescopes."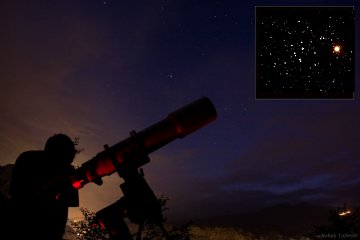 The photo above shows Tafreshi enjoying the show from Iran; inset is a close-up of Mars and stars taken by Ugur İkizler of Bursa, Turkey. To record the scene, he used optics no more powerful than a digital camera (a Canon Rebel XT) set at ISO 800 for 8x30 seconds.
"Mars crosses the heart of the cluster on Friday, May 23rd," adds Tafreshi. To find them, look west after sunset for the Red Planet glowing like a 1st magnitude star in the constellation Cancer: sky map. Scan the area with binoculars and voila!--Mars in the Hive.
PLASMA RAIN: There's a rainstorm underway on the sun's eastern limb. You'd better bring your asbestos umbrella, though, because the "droplets" are Texas-sized blobs of hot plasma: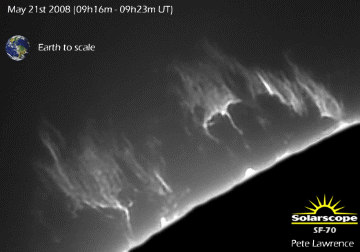 "This is prominence finery at its best," says photographer Pete Lawrence of Selsey, UK. "Small bright points within the prominence that were seen on the capture screen have been recorded as blurs due to the rapid motion of material in just a few seconds!"
Prominences are clouds of hydrogen held above the surface of the sun by magnetic fields. While this particular cloud appears to be raining like a summer shower on Earth, the true situation is more complicated. Look carefully: Some of the plasma raindrops are falling "up." That's because the motions are controlled by not only gravity but also magnetism, a force of little importance in terrestrial rainstorms. The solar magnetic field is rooted below the sun's visible surface; roiling motions in the body of the sun itself cause magnetic fields high overhead to shift, wriggle, and "rain" in all directions. No wonder prominences are so much fun to watch.
more images: from Stephen Ames of Hodgenville, Kentucky; from Greg Piepol of Rockville, Maryland; from Didier Favre of Brétigny sur Orge, France; from Malcolm Park of London, England, UK; from Les Cowley of England;
---
UPDATED: May 2008 Aurora Gallery
[Aurora Alerts] [Night-sky Cameras]