JUNE SOLSTICE: Summer begins in the northern hemisphere on Sunday, June 21st, at 5:45 am UT (1:45 am EDT) when the sun reaches its maximum declination above the celestial equator. At the same moment, winter begins in the southern hemisphere. Happy Solstice!
LAST SHOTS FROM KAGUYA: On June 10th at 1825 UT, Japan's massive Kaguya spacecraft crashed into the Moon. The Japanese space agency, JAXA, has just released a movie of Kaguya's last moments. Click on the image to set the scene in motion: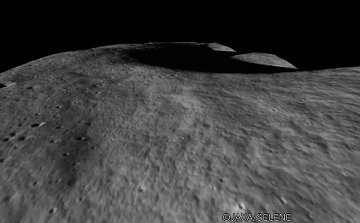 The onrushing landscape is what Kaguya's cameras saw as the spacecraft glided into the lunar surface at a shallow angle. When the 2,900 kg spacecraft hit the surface at 6,000 km/hr, astronomers in Australia observed a fireball at the impact site. The explosion punctuated a remarkably successful mission of lunar discovery.
Why bother hitting the Moon? For one thing, it's a good way to end a mission. Lunar satellites can't orbit forever because the Moon's gravitational field is weird and lumpy. Crashing is better than flying off into space, where the spacecraft could pose a hazard to other missions. Crashing also produces a fireball, which allows astronomers to estimate the "luminous efficiency" of objects hitting the Moon. Luminous efficiency is a key parameter required to interpret genuine lunar meteorite impacts. Also, hitting the Moon might uncover something interesting--like evidence of water. NASA's LCROSS spacecraft will attempt that trick later this year.
GREAT GANYMEDE: On June 16th, Paul Haese of Blackwood, South Australia, looked at Jupiter through his 14-inch Celestron telescope and witnessed a "dark and foreboding spot. It was Ganymede," he says, "transiting the cloudtops of Jupiter."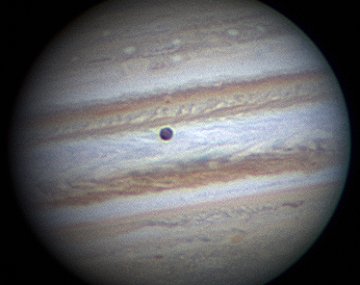 If Ganymede looks big in Haese's photo, that's because it is. Ganymede is the largest moon in the whole solar system--slightly wider than the planet Mercury and more than three-quarters the size of Mars. If it orbited the sun instead of Jupiter, Ganymede would surely be considered a planet.
Ganymede is easy to see through backyard telescopes. Look for it right beside (or sometimes directly in front of) Jupiter in the southern sky just before dawn: sky map.
---
2009 Noctilucent Photo Gallery
[previous years: 2008, 2007, 2006, 2005, 2004, 2003]
---