HAPPY SOLSTICE: Summer begins in the northern hemisphere on Sunday, June 21st, at 5:45 am UT (1:45 am EDT) when the sun reaches its maximum declination above the celestial equator. At the same moment, winter begins in the southern hemisphere. Happy Solstice!
SOLSTICE SUNRISE: Today, summer began in Poland with a sunrise display of noctilucent clouds. "They were so bright and beautiful," says Marcin Makowski who sends this photo from the city of Szubin: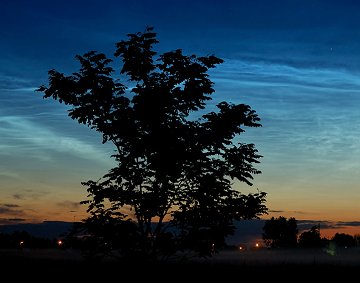 It is a curious fact that noctilucent clouds, which are made of ice crystals, appear most often during the warm months of summer. In the last week alone, the clouds have put on a show over Europe that veteran observers say has been the best in years. Now that summer is here, the show can really begin. Northern sky watchers should be alert for electric blue.
UPDATED: 2009 Noctilucent Photo Gallery
[previous years: 2008, 2007, 2006, 2005, 2004, 2003]
LAST SHOTS FROM KAGUYA: On June 10th at 1825 UT, Japan's massive Kaguya spacecraft crashed into the Moon. The Japanese space agency, JAXA, has just released a movie of Kaguya's last moments. Click on the image to set the scene in motion: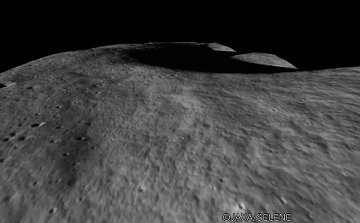 The onrushing landscape is what Kaguya's cameras saw as the spacecraft glided into the lunar surface at a shallow angle. When the 2,900 kg spacecraft hit the surface at 6,000 km/hr, astronomers in Australia observed a fireball at the impact site. The explosion punctuated a remarkably successful mission of lunar discovery.
Why bother hitting the Moon? For one thing, it's a good way to end a mission. Lunar satellites can't orbit forever because the Moon's gravitational field is weird and lumpy. Crashing is better than flying off into space, where the spacecraft could pose a hazard to other missions. Crashing also produces a fireball, which allows astronomers to estimate the "luminous efficiency" of objects hitting the Moon. Luminous efficiency is a key parameter required to interpret genuine lunar meteorite impacts. Also, hitting the Moon might uncover something interesting--like evidence of water. NASA's LCROSS spacecraft will attempt that trick later this year.
---