He already has a neck tie. This year give Dad something truly heavenly for Father's Day: SpaceWeather PHONE.

NEW LOOK: Spaceweather.com has a new look and some new features, too. Upgrades include real-time images of Earth's auroral oval, estimates of the planetary K-index every three hours, and bookmarkable archives. Look around! And if you find anything that needs fixing, please let us know.

SOLAR ACTIVITY: If you have a solar telescope, point it at the sun today. A large and beautiful prominence is dancing along the eastern limb. Pete Lawrence sends this picture from his back yard in Selsey, UK: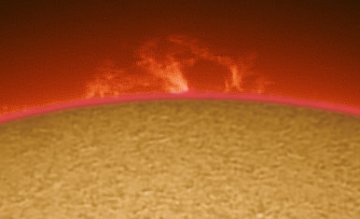 Prominences are clouds of hydrogen held up by solar magnetic fields. This one is so big, Jupiter would fit through its arcs and loops with room to spare. Sometimes the magnetic field of a prominence will become unstable and explode, producing a Hyder flare. Hyder flares are rare, but watching for them can be very satisfying.
more images: from Adrian Guzman of San Jose California; from Britta Suhre of Dortmund, Germany; from Andreas Murner of Dortmund, Germany; from P-M Hedén of Vallentuna, Sweden;
VENUS AND THE MOON: When the two brightest objects in the night sky get together, not even clouds can hold them back. Last night in Colorado, "Venus and the Moon shone right through the haze," says photographer and physics professor Jimmy Westlake: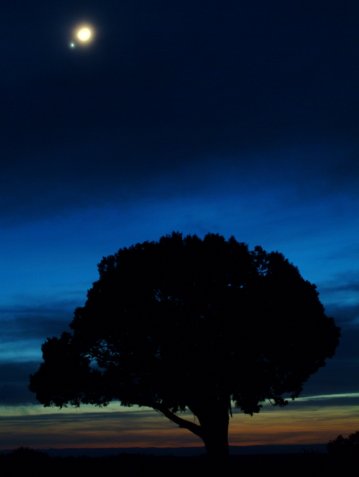 Photo details: Fuji Finepix S2, ISO 400, 35 mm Nikkor lens at f5.6, 8 seconds.
The pair of heavenly bodies were barely 1o apart, combining in brilliance for an unforgettable display. In Wallsend, Australia, David Hough saw them in broad daylight while photographer P-M Heden found that they rivaled the streetlights of Vallentuna, Sweden. "It was marvelous," he says. Now the Moon is moving away from Venus en route to another close encounter--with Saturn on May 22nd. Stay tuned!
more images: from Paco Burguera Catalá of Calpe, Spain; from James Dyson of Warrington England; from Cran Lucas of Shreveport, Louisiana; from Mark Poe of Sioux Falls, South Dakota; from Stan Richard of Des Moines, Iowa; from Brian Larmay of Niagara Falls, NY; from Doug Zubenel of Kansas City, Missouri; from Gil Esquerdo at the Whipple Observatory on Mt. Hopkins, Arizona; from Steve Cullen of Oro Valley, AZ; from Alex Ward and Jonathan Demery of St Davids College, North Wales UK; from Valter Binotto of Possagno, Italy; from Enzo De Bernardini of Martínez, Buenos Aires, Argentina;