He already has a tie. This year give Dad something truly heavenly for Father's Day: SpaceWeather PHONE
DON'T MISS THIS: When the sun sets tonight, go outside and look west. Venus and the crescent Moon will pop out of the twilight barely 1o apart. It's a spectacular and unforgettable pairing of the two brightest objects in the night sky: sky map.
LEAF TRAILS: Every night, the stars pirouette in great circles around the north celestial pole, and this allows photographers to take some nifty pictures. A camera pointed at the North Star, with the shutter open for a long exposure, records a dizzying vortex of star trails.
Star trails are evidence that Earth is spinning. To illustrate the principle for a children's book she is writing, author Trudy E. Bell tried something last weekend that may be completely original. "I mimicked Earth's spin with a playground merry-go-round, while a leafy tree played the role of stars." Here is the result: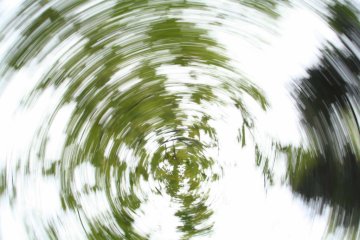 Photo copyright 2007 Trudy E. Bell. All rights reserved.
She explains how it was done: "I set my Canon Digital Rebel to ISO 100, shutter speed slow (best results came with 1/13th second), and sat in the center of the merry-go-round while my 12-yr-old neighbor Max kept me spinning."
If you wish to try this yourself, notes Trudy, be aware that "finding a merry-go-round can be surprisingly difficult. The one nearest to me was in an old park 25 miles away." And be careful standing up! "Young Max was chipper and unaffected, but I felt queasy for hours after the shoot."
3D SUNSPOT: Put on your 3D glasses and take a look at this anaglyph of sunspot 956 created yesterday by Emiel Veldhuis of the Netherlands: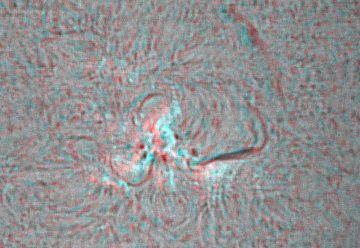 It shows a tangle of dark magnetic filaments emerging from the spot's core. Although sunspot 956 has been quiet for days, its delta-class magnetic field harbors energy for strong M-class solar flares. NOAA forecasters estimate a 15% chance of such a flare during the next 24 hours.
more images: from Pete Lawrence of Selsey, West Sussex, UK; from Cai-Uso Wohler of Bispingen, Germany; from John C McConnell of Maghaberry Northern Ireland; from Pavol Rapavy of Rimavska Sobota, Slovakia; from P-M Hedén of Vallentuna, Sweden.