| | | |
| --- | --- | --- |
| AURORA ALERTS: Did you miss the Northern Lights of June 14th? Next time get a wake-up call from Space Weather PHONE. | | |
BRIGHT LIGHTS AT DAWN: Set your alarm for dawn. On Friday morning, June 20th, Jupiter and the Moon will gather for a beautiful meeting in the southern sky: finder chart. They're bright enough to pierce the morning twilight. Indeed, Jupiter and the Moon surrounded by soft blue is a truly splendid sight. Start your day just before the sun; you'll be glad you did.
MOON ILLUSION: It is often said that cameras do not experience the Moon Illusion. So why does the Moon look so large in this photo, taken last night at the 2500-year-old Temple of Poseidon at Sounio, Greece?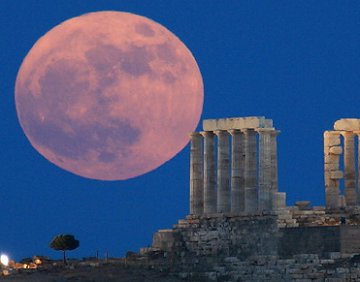 "The Moon Illusion was very strong and the Moon looked huge!" says photographer Elias Chasiotis.
Humans looking at photos of moons behind trees, buildings and temples do experience something akin to the Moon Illusion. "That's one big Moon," is a typical reaction to images like these: #1, #2, #3. The key ingredient seems to be foreground objects altering our perception of the Moon's true diameter. Ultimately, though, the camera splashes cold water on our fancies. Multiple exposures prove that the low Moon is no larger than the high Moon, as shown here, here and here.
In summary, you can't always believe your eyes--not even when reading Spaceweather.com!
more photos: from Robin Smith of Terre Haute, Indiana; from Chris Picking of Kaituna, North Island, New Zealand; from Ivica Skokic of Zagreb, Croatia; from Mustafa Erol of Antalya, Turkey; from Anthony Ayiomamitis of Sounion, Greece; from Terry Mann of West Manchester, Ohio; from Jacques Vincent of Breil-sur-Roya, France; from Tom Soetaert of Lawrence, Kansas; from Stefan Seip of Weilimdorf, Germany;
SNOW WHITE: Phoenix is digging a new trench on Mars and mission scientists have named it "Snow White." Slip on your 3D glasses and check out the progress so far: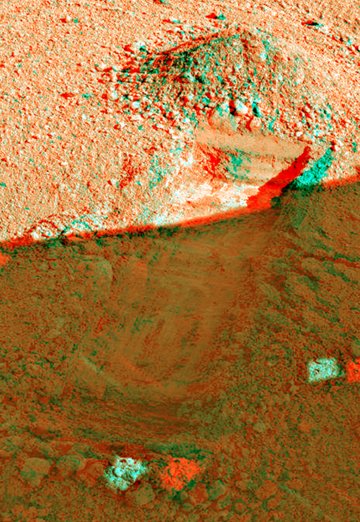 Belgian graphic artist Patrick Vantuyne created the anaglyph using right- and left-eye images captured by Phoenix's stereo camera. Stare a while for full effect; you may even feel as if you're about to fall in. Don't worry, the trench is only about 1 inch deep.
It's about to get deeper. In the days ahead, Phoenix will excavate more topsoil in search of a mysterious white material first seen in a nearby test trench. Mission scientists would like to gather an abundance of the mystery substance for analysis by Phoenix's onboard mass spectrometer. Then they may discover whether it is ice, salt, or something entirely new. Stay tuned for updates.
---
2008 Noctilucent Cloud Gallery
["Noctilucent Clouds"--the song] [NLC Basics]