| | | |
| --- | --- | --- |
| AURORA ALERTS: Did you miss the Northern Lights of June 14th? Next time get a wake-up call from Space Weather PHONE. | | |
MOON ILLUSION: Sometimes you just can't believe your eyes. Tonight may be one of those times. Go outside around sunset, look east, and prepare to be deceived: full story.
photos: from P-M Hedén of Vallentuna, Sweden; from Yuichi Takasaka of Lumby, British Columbia;
NOCTILUCENT CLOUDS: Every night for the past week, northern and central Europeans have witnessed eerie electric-blue noctilucent clouds (NLCs) gliding overhead. This snapshot taken just before daybreak on June 17th comes from Jacob Kuiper of the Netherlands: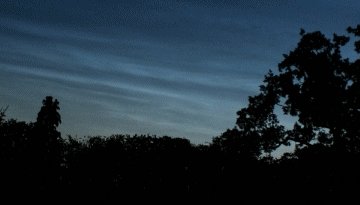 Clicking on the image launches a time-lapse movie showing 9 minutes of noctilucent motion. "I have been watching NLCs since 1984 and each time I see their strange glow it gives me a wonderful feeling," says Kuiper. "Today's clouds were accompanied by the sound of the first birds singing just before dawn--it was Nature at its best!"
Summer is the season for noctilucent clouds, so it comes as no surprise that activity is picking up on the eve of the summer solstice (June 20th). Readers, especially you at high latitudes, check the photo gallery for observing tips and be alert for electric-blue!
2008 Noctilucent Cloud Gallery
["Noctilucent Clouds"--the song] [NLC Basics]
SMOKEY PROMINENCE: Where there's smoke, there's fire--except on the sun where there is neither. The fiery appearance of the sun comes not from combustion but rather from nuclear fusion, and without fire there is no smoke.
Or is there? Consider this movie made on June 17th by Yvan Trembley of Villepreux, France: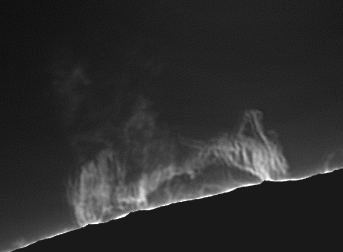 "I recorded the view through my Coronado SolarMax90," says Trembley. It seems to show a plume of smoke swirling up from the inferno below. In fact, it is a planet-sized wisp of solar hydrogen caught in the grip of an unwinding magnetic field--a solar prominence masquerading as smoke.
The eastern edge of the sun, where Trembley pointed his telescope, has been alive with this kind of activity all week. Got a solar filter? Monitoring is encouraged.
more images: from Mark Seibold of Portland, Oregon; from Didier Favre of Brétigny sur Orges, France; from Cai-Uso Wohler of Bispingen, Germany; from Stephen Ames of Hodgenville, Kentucky; from Emiel Veldhuis of Zwolle, the Netherlands; from Steve Irvine of Big Bay, Ontario, Canada
---