Where's Saturn? Is that a UFO--or the ISS? What's the name of that star? Get the answers from mySKY--a fun new astronomy helper from Meade.

SPACE SHUTTLE UPDATE: The threat of Hurricane Dean closing mission control in Houston has prompted NASA to recall Endeavour to Earth one day early. Undocking will occur on Sunday and landing on Tuesday: more. North Americans should be alert for double-spaceship flybys after dark on Aug. 19th and 20th.

SOLAR ACTIVITY: Several large and beautiful prominences have popped up on the sun today. "What a nice display," says Mark Hanson of the Grenier Solar Observatory in Wisconsin. "This is one of the more active times on the sun's limb over the last 6 months." If you have a solar telescope, take a look!

more images: from Michael Borman of Evansville, Indiana; from Cai-Uso Wohler of Bispingen, Germany; from Monty Leventhal of Sydney, Australia; from J. Fairfull and J. Stetson of South Portland, Maine; from P-M Hedén of Vallentuna, Sweden; from Pavol Rapavy of Rimavska Sobota, Slovakia; from Fabrice Noel of Saclay, France; from Franck Charlier of Marines, Val d'Oise - France

DON'T TRY THIS AT HOME: Today, Venus is only 8° from the sun, which means pointing a telescope at Venus is a risky thing to do. But, oh the rewards! Denis Joye of Boulogne, France, used a webcam and his Meade LX200 "goto" telescope to take this picture today in broad daylight: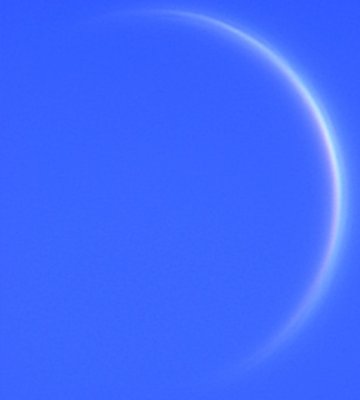 Venus' nightside is turned almost entirely toward Earth; that's why it appears in crescent form. There's no prettier sight in the heavens.
But it is perilous. "Danger is encountered when Venus is observed near the sun with an LX200," says Joye. "Between 3° and 13°, a paper ignites when placed in front of the telescope's tube. At 2°, the annular space between the secondary mirror and plastic cap is melting. Never try it when the angle is lower than 2°!"
more images: from Rich Nugent of Framingham, Massachusetts; from Elias Chasiotis of Markopoulo, Greece; from Mark Wloch of Southgate, Michigan; from Pete Lawrence of Selsey, UK; from Dave Eagle of Higham Ferrers, England; from Mauro Zorzenon and Lucio Furlanetto on Matajur Mountain, Italy;
SPACESHIP SIGHTINGS: The International Space Station (ISS) is under construction, and with each new addition the sprawling complex becomes easier to see from the ground. To the naked eye, it looks like a super-bright star gliding slowly across the night sky; a backyard telescope reveals a wonderfully detailed spaceship:
German astronomer Stefan Seip snapped this picture on August 16th using a Canon 1Ds digital camera and a 10-inch Maksutov-Cassegrain telescope. "I moved the telescope manually while looking through the finder scope to track the ISS," he explains. "This is a single 1/500 sec. exposure at ISO 1000."
A note of scale: The station's copper-colored solar arrays span 256 feet from tip to tip, almost as wide as a football field, and the entire complex fills the eyepiece of a backyard telescope about the same as Jupiter or the rings of Saturn. Sky watchers, be alert for flybys!
more images and video: from Tom Gwilym of Renton, Washington; from Ralf Vandebergh of the Netherlands; from Hanno Falk of Flensburg, Germany (cross your eyes!); from Dirk Ewers of Hofgeismar, Germany; from Mario Weigand of Offenbach, Germany; from Alberto Zampieron of Italy.
---
2007 Perseid Meteor Gallery
Updated Aug. 14, 2007