Where's Saturn? Is that a UFO--or the ISS? What's the name of that star? Get the answers from mySKY--a fun new astronomy helper from Meade.

NLCs IN MOTION: "We had another georgous display of noctilucent clouds last night," reports Patrick Cobb of Fairbanks, Alaska. He photographed the display once a minute and combined the photos to create a 65-min. time-lapse movie: click to play. "Did exhaust from last week's shuttle launch contibute to this apparition?" he asks. It's possible. One thing is certain: Noctilucent cloud season is still underway.

SPACESHIP SIGHTINGS: The International Space Station (ISS) is under construction, and with each new addition the sprawling complex becomes easier to see from the ground. To the naked eye, it looks like a super-bright star gliding slowly across the night sky; a backyard telescope reveals a wonderfully detailed spaceship:

German astronomer Stefan Seip snapped this picture on August 16th using a Canon 1Ds digital camera and a 10-inch Maksutov-Cassegrain telescope. "I moved the telescope manually while looking through the finder scope to track the ISS," he explains. "This is a single 1/500 sec. exposure at ISO 1000."

A note of scale: The station's copper-colored solar arrays span 256 feet from tip to tip, almost as wide as a football field, and the entire complex fills the eyepiece of a backyard telescope about the same as Jupiter or the rings of Saturn. Sky watchers, be alert for flybys!

more images and video: from Tom Gwilym of Renton, Washington; from Ralf Vandebergh of the Netherlands; from Hanno Falk of Flensburg, Germany (cross your eyes!); from Dirk Ewers of Hofgeismar, Germany; from Mario Weigand of Offenbach, Germany;

ANIMATED ECLIPSE: Mark your calendar: On Aug. 28th, the full moon will glide through Earth's shadow, producing a dreamy lunar eclipse visible from five continents. Graphic artist Larry Koehn created this animation of the Moon-shadow encounter: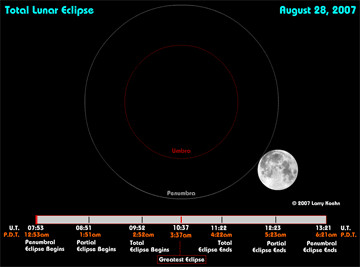 Click on the image to view a larger version at Larry Koehn's website.
The Moon turns red when it passes through the core of Earth's shadow because--strangely--Earth's shadow is filled with red light. The red light comes from the rim of Earth itself, which is aglow with sunlight filtering through our planet's atmosphere. (Think sunsets!) A full Moon bathed in such light is unforgettable and worth waking up in the middle of the night to see: gallery.
---
2007 Perseid Meteor Gallery
Updated Aug. 14, 2007