NORTHERN LIGHTS: High-latitude sky watchers should be alert for Northern Lights tonight. Earth is entering a solar wind stream that could spark geomagnetic storms around the Arctic Circle. Sensors in Norway are picking up strong ground currents and this is a sign that a storm could be in the offing: gallery.
SWEDISH FIREBALL: A meteoroid of unknown size hit Earth's atmosphere over Sweden last night (Jan. 17 at 1909 UT) and exploded, turning the sky "lightning blue and green." Witnesses say the fireball was brighter than a full moon, casting shadows and booming like thunder. It was visible from Sweden, Denmark, the Netherlands, Germany and possibly as far away as Spain. Readers, if you saw or photographed the event, please submit a report.
ICE FLOWERS: Temperatures across much of the United States have plunged to record-low levels. It's so cold, ice flowers are sprouting from the ground: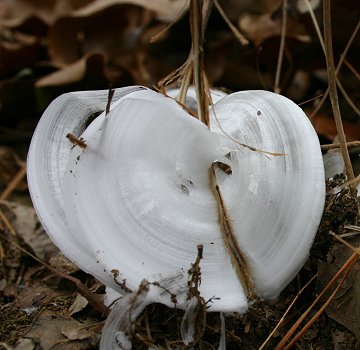 "When I went out to get firewood on the morning of Jan. 16th, I noticed these little luminous beings of ice scattered all around our yard," says photographer Chyenne M. Star of Edgemont, Arkansas. "I have never seen them before - or anywhere in our area."
Scientists have been studying the ice flower phenomenon for almost two hundred years. Botanists, physicists, geologists--all have puzzled over the fragile ribbons of ice that wrap themselves around the stems of some plants during winter. Over time, the following consensus has emerged: Liquid water from deep soil flows up into the stems. Linear cracks in the stems expose the water to freezing air. Water turns to ice, and the ice extrudes from the cracks in thin sheets: movie.
"It is one of those gifts in the middle of Winter that really surprises us," says Star. Could more surprises be in the offing? The chill continues....
more images: from Richard Reinking of Greenfield, MA
TITAN TRANSIT: Saturn's rings are almost perfectly edge-on to Earth and this is giving astronomers a chance to see unaccustomed things. On Jan. 7th, Christopher Go of the Philippines photographed one of them--a transit of Titan: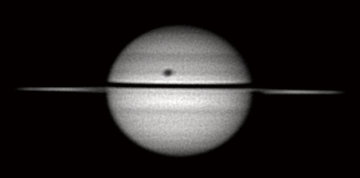 Titan passes in front of Saturn fairly often, but the transits are usually hidden from view by Saturn's broad rings. Only when the rings are edge-on does the giant moon's silhouette reveal itself to backyard telescopes.
"This type of transit is so rare, the last time it happened was in 1995," says Go. "After March 12th, the next one will be in the year 2025. The last four transits of this season will be on 1/23, 2/8, 2/24 and 3/12. The March 12th transit is the rarest as it will feature both Titan and it's shadow."
"All of the Titan transits this season are visible only from the Austral-Asia region of Earth," notes Go. Astrophotographers in the area, ready your cameras!
more images: from Roman Breisch of Erdweg, Germany; from Mark Seibold of Portland, Oregon; from Stuart Thomson of Melbourne, Australia; from Stefan Seip of Stuttgart, Germany; from William Rison of Newburg, Maryland; from Mike Borman of Evansville, Indiana;
---
Comet Lulin Photo Gallery
[sky map] [Comet Hunter Telescope]