SOLAR ACTIVITY: Amateur astronomers around the world are monitoring a lively prominence on the sun's northeastern limb. If you have a solar telescope, take a look. Images: #1, #2, #3, #4.
SCANDINAVIAN FIREBALL: A meteoroid of unknown size hit Earth's atmosphere over Scandinavia on Jan. 17th (1909 UT) and disintegrated in a thunderous explosion. The fireball was so bright it turned the nighttime sky blue:
The movie above was recorded by an automated video camera belonging to Roger Svensson in Sweden.
Jacob Kuiper of the Dutch National Weather Service says the phones at his offices were ringing off the hook. "The Dutch Coast Guard has been overwhelmed with eyewitness reports, sometimes 20 phone calls in a few minutes." Observers reporting to the Danish astronomy web site Astronomibladet say the fireball's brightness exceeded that of a full Moon; early evening drivers "could not help noticing it, despite being blinded by the opposite traffic."
Jan. 17th Fireball Sighting Reports
ICE FLOWERS: Temperatures across much of the United States have plunged to record-low levels. It's so cold, ice flowers are sprouting from the ground: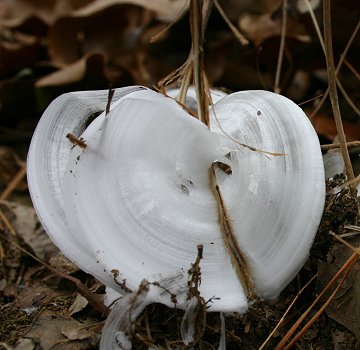 "When I went out to get firewood on the morning of Jan. 16th, I noticed these little luminous beings of ice scattered all around our yard," says photographer Chyenne M. Star of Edgemont, Arkansas. "I have never seen them before - or anywhere in our area."
Scientists have been studying the ice flower phenomenon for almost two hundred years. Botanists, physicists, geologists--all have puzzled over the fragile ribbons of ice that wrap themselves around the stems of some plants during winter. Over time, the following consensus has emerged: Liquid water from deep soil flows up into the stems. Linear cracks in the stems expose the water to freezing air. Water turns to ice, and the ice extrudes from the cracks in thin sheets: movie.
"It is one of those gifts in the middle of Winter that really surprises us," says Star. Could more surprises be in the offing? The chill continues....
more images: from Brian Emfinger of Ozark, Arkansas; from Richard Reinking of Greenfield, Massachusetts;
---
Comet Lulin Photo Gallery
[sky map] [Comet Hunter Telescope]