| | | |
| --- | --- | --- |
| Thirty-five new items have just been added to our Meteorite Jewelry collection. Browse the Space Weather Store for something out of this world. | | |
ORIONID METEOR SHOWER: Next weekend, Earth will pass through a stream of debris from Halley's Comet, source of the annual Orionid meteor shower. Forecasters expect ~25 meteors per hour when the shower peaks on Oct. 21st. [video] [full story] [NASA Chat]
AURORAS FROM ORBIT: Orbiting high above Earth, low-light cameras onboard the US military's fleet of DMSP satellites have captured some magnificant auroras lately. On Oct. 12th, a band of lights cutting across the Hudson Bay in Canada were nearly as bright as the city lights on the continent below: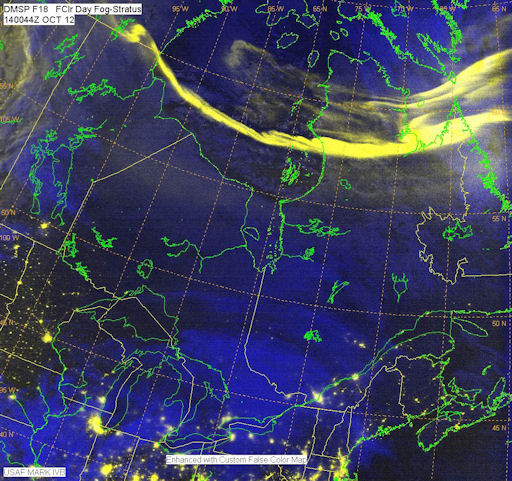 "This image came from DMSP's F18 satellite," says Paul McCrone who processed the data at the US Navy's Fleet Numerical Meteorology and Oceanography Center in Monterey, CA. "It shows auroras, some wispy clouds, and the brightly-lit urban areas of the northeastern United States."
One can only imagine what sky watchers would have seen if this bright band had descended over the populated regions of the United States. We won't find out this week. NOAA forecasters say the chances of a geomagnetic storm at mid-latitudes during the next three days is no more than 1%. Aurora alerts: text, voice.
SUN HALOS: As the northern hemisphere heads deeper into autumn, and ultimately winter, icy clouds become more commonplace. In other words, 'tis the season for sun halos. Charles Yeager photographed this specimen over Cleveland, Minnesota on Oct. 15th: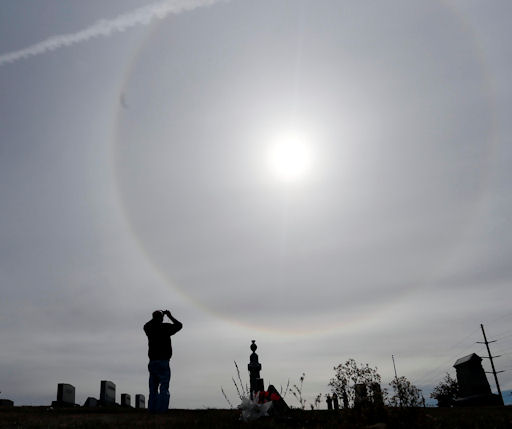 "This halo looked extremely large over the farm land of southern Minnesota," says Yeager.
In fact, it was 22 degrees in radius. That's how much hexagonal ice crystals in cirrus clouds bend the light of the sun overhead. Related crystals can also create sun pillars, sundogs, and a variety of other luminous halos. Look around the sun; you never know what you might see.
Realtime Space Weather Photo Gallery
RADIO STORM ON JUPITER: On Oct. 12th, there was a storm on Jupiter--a radio storm. Amateur radio astronomer Thomas Ashcraft recorded the event using a shortwave radio telescope located in New Mexico. Click on the dynamic spectrum (a plot of intensity vs. frequency vs. time) to hear the whooshing, crackling, popping sounds that emerged from his telescope's loudspeaker: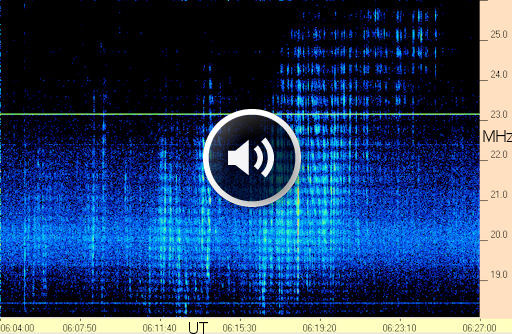 Dynamic spectrum courtesy of Wes Greenman, Radio Alachua Observatory
"Listen to the recording in stereo," advises Ashcraft. "I recorded the audio from two separate radios at 21.1 MHz and 20.9 MHz, so there is a stereo spatial effect from the frequency drift of the emissions."
Jupiter's radio storms are caused by natural radio lasers in the planet's magnetosphere that sweep past Earth as Jupiter rotates. Electrical currents flowing between Jupiter's upper atmosphere and the volcanic moon Io can boost these emissions to power levels easily detected by ham radio antennas on Earth. Jovian "S-bursts" and "L-bursts" mimic the sounds of woodpeckers, whales, and waves crashing on the beach. Here are a few audio samples: S-bursts, S-bursts (slowed down 128:1), L-Bursts
Now is a good time to listen to Jupiter's radio storms. The distance between Earth and Jupiter is decreasing as the giant planet approaches opposition on Dec. 3rd; the closer we come to Jupiter, the louder it gets. NASA's Radio Jove Project explains how to build your own receiver.
---
---
Realtime Noctilucent Cloud Photo Gallery
[previous years: 2003, 2004, 2005, 2006, 2007, 2008, 2009, 2011]