| | | |
| --- | --- | --- |
| Listen to radar echoes from satellites and meteors, live on listener-supported Space Weather Radio. | | |
ORIONID METEOR SHOWER: Next weekend, Earth will pass through a stream of debris from Halley's Comet, source of the annual Orionid meteor shower. Forecasters expect ~25 meteors per hour when the shower peaks on Oct. 21st. [video] [full story] [NASA Chat]
BAY AREA FIREBALL: Last night, Oct. 17th, many people near San Francisco saw a slow-moving fireball exploding in the sky around 07:45 pm PDT. Witnesses report bright flashes of light and sonic booms that shook houses. Using a wide-field camera, Wes Jones caught the meteor disappearing behind the trees in the city of Belmont: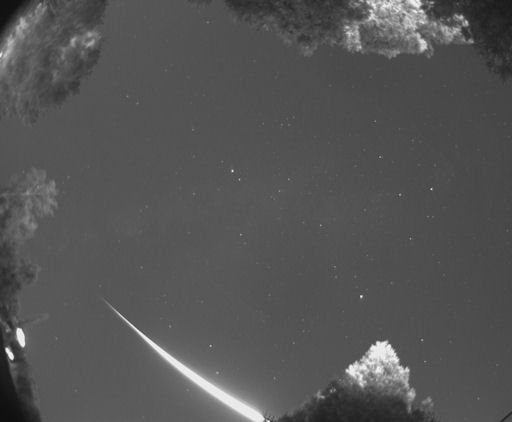 "We don't know yet if the end point [of the meteor's flight] was over land or water," says meteor expert Peter Jenniskens of the NASA Ames Research Center. Jenniskens operates a network of Cameras for All-sky Meteor Surveillance (CAMS) near the Bay Area. "Data from the CAMS system should give us an answer [about landfall]. We're analyzing the data now." Stay tuned.
Note: Although Earth is nearing a stream of debris from Halley's Comet, source of the Orionid meteor shower, this fireball was probably not an Orionid. The timing and direction of the meteor do not seem to match the Orionids.
GROUND AND SKY CURRENTS: A medium-speed (~500 km/s) solar wind speed is buffeting Earth's magnetic field, igniting auroras around the Arctic Circle. Last night at the Polarlightcenter in Lofoten, Norway, the reverberating magnetic field induced electrical currents in the ground. "When we saw the currents on our monitors, we rushed outside to see the auroras," says Jan Koeman, who took this picture: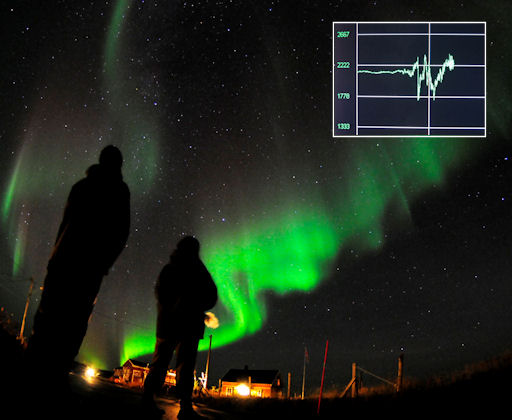 "It was a beautiful display," says Koeman. NOAA forecasters estimate a 15% chance of geomagnetic storms around the Arctic Circle tonight in response to the waning solar wind stream. However, based on Koeman's experience--"This was our sixth night in a row with clear skies and auroras," he says--the odds of a light show seem even higher. Arctic sky watchers should remain alert for auroras on Oct. 18-19, especially during the hours around local midnight. Aurora alerts: text, voice.
SUN HALOS: As the northern hemisphere heads deeper into autumn, and ultimately winter, icy clouds become more commonplace. In other words, 'tis the season for sun halos. Charles Yeager photographed this specimen over Cleveland, Minnesota on Oct. 15th: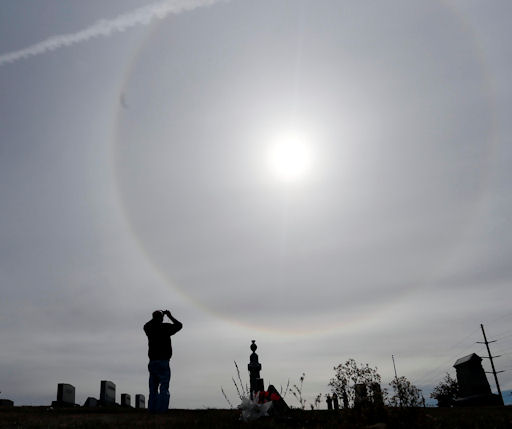 "This halo looked extremely large over the farm land of southern Minnesota," says Yeager.
In fact, it was 22 degrees in radius. That's how much hexagonal ice crystals in cirrus clouds bend the light of the sun overhead. Related crystals can also create sun pillars, sundogs, and a variety of other luminous halos. Look around the sun; you never know what you might see.
Realtime Space Weather Photo Gallery
---
Realtime Noctilucent Cloud Photo Gallery
[previous years: 2003, 2004, 2005, 2006, 2007, 2008, 2009, 2011]