MYSTERY OF THE MISSING SUNSPOTS: Where have all the sunspots gone? Scientists studying a jet stream deep inside the sun may have found the answer. Get the full story from Science@NASA.
NIGHT-SHINING CLOUDS: Intense, electric-blue noctilucent clouds rippled across Europe last night. Sightings were made in Belgium, Denmark, the Netherlands, France, Germany, Poland and all parts of the British Isles. Click on the image to launch a movie recorded by Chris Rollwagen of Potsdam, Germany (DivX required):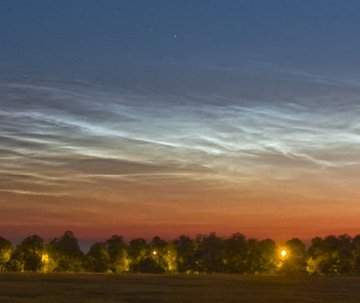 Two movie formats are available: Quicktime or AVI
"This was a very strong display," he says. "The clouds were bright and showed an intense contrast to the deep blue sky. I'm hoping for more in the nights ahead."
He'll probably get his wish. For reasons no one fully understands, noctilucent clouds tend to be most active during years of solar minimum. 2009 is such a year. The sun is in the pits of the deepest solar minimum in nearly a century, and many researchers expect a banner season for these mysterious clouds.
UPDATED: 2009 Noctilucent Photo Gallery
[previous years: 2008, 2007, 2006, 2005, 2004, 2003]
NLC OBSERVING TIPS: Look west 30 to 60 minutes after sunset when the Sun has dipped 6o to 16o below the horizon: diagram. If you see luminous blue-white tendrils spreading across the sky, you've probably spotted a noctilucent cloud. Although noctilucent clouds appear most often at high latitudes, they have been sighted in recent years as far south as Colorado, Utah and Virginia.
ISS IN BROAD DAYLIGHT: After 11 years of construction, the International Space Station has grown so large you can see it in broad daylight. "On June 13th, I was watching a red-headed woodpecker's nest when the ISS passed overhead," says Brooke O'Klatner of Charlotte, North Carolina. Follow the curved branch to find the spaceship: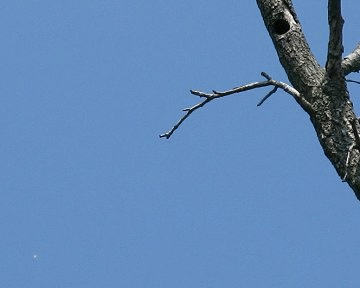 The station's brightness will increase even more when space shuttle Endeavour arrives later this week (update: Endeavour's trip has been postponed until July). Endeavour will deliver a new "space porch" for Japan's Kibo science lab. It is a platform where science experiments requiring exposure to hard vacuum and radiation can be set outside. The Endeavour+ISS combo will pierce the blue sky of daytime with ease--and just imagine how they will look at night!
Readers, check the Simple Satellite Tracker for flyby times.
---