LAUNCH UPDATE: Space shuttle Endeavour is in launch position at the Kennedy Space Center and the countdown clock is ticking for liftoff at 5:40 a.m. EDT on Wednesday, June 17th. There is an 80% chance of favorable weather for liftoff, say forecasters. Endeavour's 16-day mission to the ISS will feature five spacewalks and complete construction of the Japan's Kibo laboratory. [more]
NIGHT-SHINING CLOUDS: Last night, June 16th, a bank of intense, electric blue noctilucent clouds rippled across the North Atlantic. "It was the best display I've seen so far this year--fairly bright and active," reports Dave Lillis of Limerick city, Ireland. He took this picture using his Canon 300D: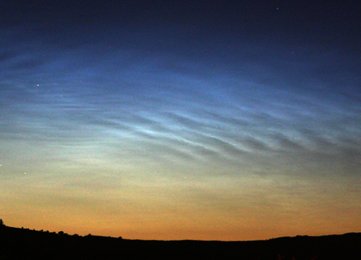 "Hopefully, we'll get more like it," he says.
We might. For reasons no one fully understands, noctilucent clouds tend to be most intense during years of solar minimum. 2009 is such a year. The sun is in the pits of the deepest solar minimum in nearly a century, and many researchers expect a banner year for these mysterious clouds. Browse the gallery for more of last night's display:
UPDATED: 2009 Noctilucent Photo Gallery
[previous years: 2008, 2007, 2006, 2005, 2004, 2003]
ISS IN BROAD DAYLIGHT: After 11 years of construction, the International Space Station has grown so large you can see it in broad daylight. "On June 13th, I was watching a red-headed woodpecker's nest when the ISS passed overhead," says Brooke O'Klatner of Charlotte, North Carolina. Follow the curved branch to find the spaceship: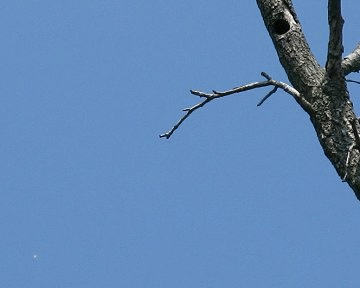 The station's brightness will increase even more when space shuttle Endeavour arrives later this week. Endeavour will deliver a new "space porch" for Japan's Kibo science lab. It is a platform where science experiments requiring exposure to hard vacuum and radiation can be set outside. The Endeavour+ISS combo will pierce the blue sky of daytime with ease--and just imagine how they will look at night!
Readers, check the Simple Satellite Tracker for flyby times.
---