DOUBLE FLYBY ALERT: Space shuttle Discovery is chasing the ISS around Earth, and the two spacecraft are poised to fly over many North American and European towns and cities tonight. Check the Simple Satellite Tracker to see if you are one of the lucky sky watchers favored with a "double flyby."
SHUTTLE LAUNCH: Space shuttle Discovery left Earth on Sunday, March 15th, at 7:43 pm EDT in a beautiful twilight launch from Kennedy Space Center. The orbiter is now en route to the International Space Station where Commander Lee Archambault and crew will deliver and install the outpost's final set of solar arrays. NASA Launch Director Mike Leinbach said the countdown was smooth and the launch itself "was the most visually beautiful I've ever seen -- it was just spectacular."
Shortly after the shuttle took off, an electric-blue cloud appeared among the plumes of exhaust. Photographer Adam Bojanowski of Titusville, Florida, recorded the formation:
"I compiled the pictures I took into a time lapse movie," says Bojanowski. "The blue cloud appears to grow where the shuttle main engines passed through a particular layer of atmosphere. The cloud grew in coverage and changed from bright white to electric blue as it expanded."
The cloud is probably made of ice crystals frozen from the watery exhaust of the shuttle's main engines. Very tiny crystals catching the rays of the setting sun would preferentially scatter blue light, accounting for the cloud's distinctive color. This is called Rayleigh scattering--the same type of scattering that turns the daytime sky blue.
more launch images: from Terry Allshouse of Titusville, Florida; from Stargazer Ron of Palm Bay, Florida; from Chris Cook of Cape Cod, Massachusetts; from Mary Lou Dolan of Coral Springs, Florida; from Peter Lardizabal of St Johns, Florida; from David Gray of Winter Haven, Florida; from Arthur Stevens of Port Richey, Florida; from Joshua Kitchener of Cape Coral, Florida; from Michael Wilson of Titusville, Florida; from Nicole Darr of Okeechobee, Florida; from Aaron Bokelmann near Zolfo Springs, Florida.
AURORA WATCH: A solar wind stream hit Earth on March 13th, sparking colorful Northern Lights around the Arctic Circle. Aurora tour guide Kjetil Skogli sends this picture from Tromsø, Norway: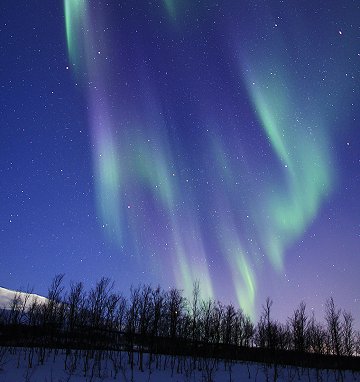 "The moonlight was very bright--but not bright enough to overwhelm the aurora borealis," says Skogli. "There were several outbursts, which I photographed using my Canon 5D."
Another solar wind stream is heading for Earth, due to arrive on or about March 20th. Arctic sky watchers should be alert for auroras on the first night of Spring.
UPDATED: March 2009 Aurora Gallery
[previous Marches: 2008, 2007, 2006, 2005, 2004, 2003, 2002]
---
Comet Lulin Photo Gallery
[Comet Hunter Telescope: review] [Comet Lulin finder chart]
---