LIFTOFF! Space shuttle Discovery has just left Earth in a spectacular twilight launch from Kennedy Space Center. Check the launch blog for updates.
FAREWELL COMET LULIN: Almost three weeks after its close encounter with Earth, Comet Lulin is returning to the cold and inky depths of the outer solar system. "The comet is fading rapidly," says John Nassr who sends this picture taken March 14th from his backyard observatory in the Philippines: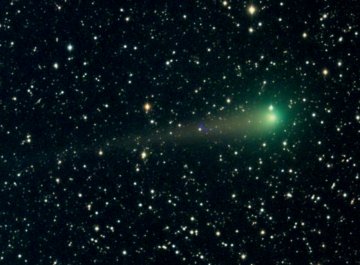 The head of the comet is now about as bright as a 7th or 8th magnitude star--invisible to the naked eye and a good target for experienced astrophotographers only. Take a long look at these parting shots. They could be the last ones you see. Comet Lulin is on a hyperbolic trajectory out of the solar system, crossing the orbit of Mars on March 29th, transiting the asteroid belt between April and August 2009, and passing Jupiter in early 2010. Farewell Comet Lulin, and thanks for the memories!
UPDATED: Comet Lulin Photo Gallery
[Comet Hunter Telescope: review] [Comet Lulin finder chart]
SKI HALOS: Friday the 13th was a lucky day at the Killington ski resort in Vermont. A bank of icy clouds drifted directly in front of the sun, producing a sun halo of such intense beauty, it stopped skiers in their tracks: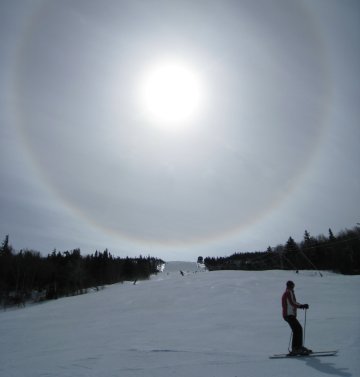 "I was simply astounded!" says photographer Steven Benatar. "The amazing halo lasted for about 45 minutes. Thankfully I had my handy Canon SD780 to snap some quick pics as evidence."
Benatar says he's seen pictures of sun halos before on the internet, but "they are much better in person!"
more images: from Alex Conu of Clinceni, Romania; from Jim Saueressig of Emporia, Kansas; from Lois Reinert of Tracy, Minnesota
---
March 2009 Aurora Gallery
[previous Marches: 2008, 2007, 2006, 2005, 2004, 2003, 2002]
---