| | | |
| --- | --- | --- |
| ASTRONOMY ALERTS: Looking for a unique and affordable gift? Give the heavens for Christmas at Spaceweather PHONE. | | |
BIG NEW SUNSPOT: New sunspot 1035 is growing rapidly and it is now seven times wider than Earth itself: movie. The magnetic polarity of the spot identifies it as a member of new Solar Cycle 24. Readers with solar telescopes, train your optics on the sun to witness sunspot genesis in action.
sunspot photos: from Rogerio Marcon of Campinas, Brazil; from Etienne Lecoq of Normandy, France; from G.Harmon et al of South Portland, Maine; from John C McConnell of Maghaberry Northern Ireland
GEMINID METEOR UPDATE: On Dec. 13th, Earth passed through a stream of debris from extinct comet 3200 Phaethon. The encounter produced a surge of more than 160 Geminid meteors per hour. The timing of the peak favored observers in Europe and the Middle East, many of whom said it was the finest display of Geminids they had ever seen.
Optimistic forecasts of this year's Geminids called for 140 meteors per hour. The actual display exceeded expectations by some 20 percent. This strong showing continues a recent trend of intensifying Geminids that could lead to a regular "super-shower" in the years ahead. Reasons for the trend are discussed in a recent Science@NASA article. Check it out, but first browse the gallery:
2009 Geminid Meteor Gallery
[sky map] [meteor radar] [Geminid counts]
FALSE AURORAS: "On Sunday night, we drove to the country to watch the Geminids, and we saw a lot of them," reports M-P Markkanen of Kuusamo, Finland. "They were all over the sky, sometimes with multiple fireballs within just a few seconds."
"When I got back home I was treated to another kind of light show," he says. He photographed the display using a Nikon D80: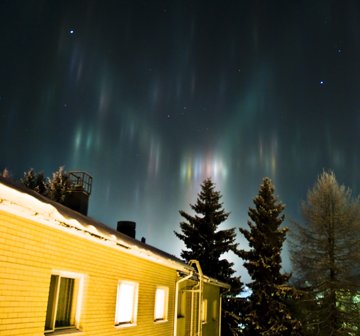 It was an apparition of light pillars, a.k.a. "false auroras," caused by urban lights reflected from ice crystals in the air. "They danced in the icy sky like auroras as a few Geminids flew past in the background. All in all, it was a lovely spaceweather day!"
December Northern Lights Gallery
[previous Decembers: 2008, 2007, 2006, 2005, 2001, 2000]
---