| | | |
| --- | --- | --- |
| SPACESHIP SIGHTINGS: Would you like a call when the space station is about to fly over your backyard? Sign up for Spaceweather PHONE. | | |
NEW SUNSPOT: A sunspot is growing rapidly in the sun's northern hemisphere: image. It appears to be a member of new Solar Cycle 24. Readers with solar telescopes should train their optics on the sun to witness sunspot genesis in action.
GREAT GEMINIDS: According to the International Meteor Organization, dark-sky Geminid meteor rates peaked last night at more than 160 per hour (update). During the period of maximum activity, Bjørnar G. Hansen photographed this fireball streaking through the Northern Lights over Kvaløya, Norway: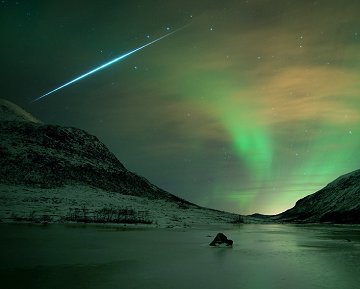 "I took the picture using a Nikon D3," says Hansen. "It is a 30 second exposure."
In some places, rates briefly surged even higher. Robin Busscher reports from the Netherlands: "Between midnight and 2 am, we saw a big show of Geminids with as many as 5 meteors in only 10 seconds. That's even more than the predicted maximum of 140 per hour!"
UPDATED: Geminid Meteor Gallery
[sky map] [meteor radar] [Geminid counts]
AURORA MASQUERADE: "Last night we drove to the country to watch the Geminids, and we saw a lot of them," reports
M-P Markkanen of Kuusamo, Finland. "They were all over the sky, sometimes with multiple fireballs within just a few seconds."
"When I got back home I was treated to another kind of light show," he says. He photographed the display using a Nikon D80: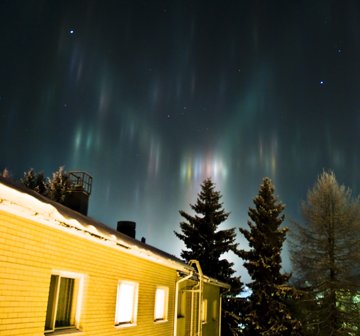 It was an apparition of light pillars, caused by urban lights reflected from ice crystals in the air. "They danced in the icy sky like auroras as a few Geminids flew past in the background. All in all, it was a lovely spaceweather day!"
December Northern Lights Gallery
[previous Decembers: 2008, 2007, 2006, 2005, 2001, 2000]
---