NLCs INVADE THE USA: So far in 2009, noctilucent clouds (NLCs) have been seen mainly over Europe and parts of Canada, but now they are beginning to invade the continental USA. "We had a pretty good dispay in Grass Valley, Oregon, last night," reports amateur astronomer Dan Earl. "I've been looking for NLCs for the past couple of years and finally they arrived!" He took these pictures using a Canon 40D. US sky watchers should be alert for electric blue.
NOCTILUCENT STORM: For the second day in a row, a major display of noctilucent clouds is taking place over Europe. The electric-blue clouds are so bright, you can see them while looking at the ground. "Here they are reflected from a puddle," offers photographer Douglas Cooper of Stirling, Scotland. Of course, the sky is still best. "I have never seen such bright, large and detailed noctilucent clouds," says Piotr Majewski, who sends this picture from Torun, Poland: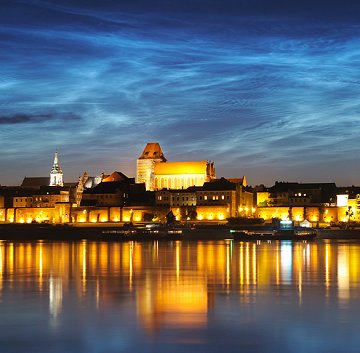 "This was a wonderful meeting of a gothic miracle (Torun, the City of Copernicus) and the heavenly miracle of noctilucent clouds," says Majewski. "I took the picture using my Nikon D700 set at ISO 200 for 8 seconds."
2009 has been a good year for noctilucent clouds--and that's no surprise. Noctilucent clouds almost always surge during years of solar minimum such as 2009. No one fully understands the link, but here is a popular idea: Low solar activity allows the upper atmosphere to cool, promoting the formation of tiny ice crystals that make up noctilucent clouds. Browse the gallery for observing tips and more snapshots from July 12th and 13th:
UPDATED: 2009 Noctilucent Photo Gallery
[previous years: 2008, 2007, 2006, 2005, 2004, 2003]
SPACESHIP DOWN: Yesterday, the International Space Station (ISS) lost its sidekick when Progress 33 reentered Earth's atmosphere and disintegrated over the Pacific Ocean. The Russian supply ship had been accompanying the ISS for nearly two weeks, treating sky watchers to double flybys such as this one recorded on July 12th by Marco Langbroek of Leiden, the Netherlands: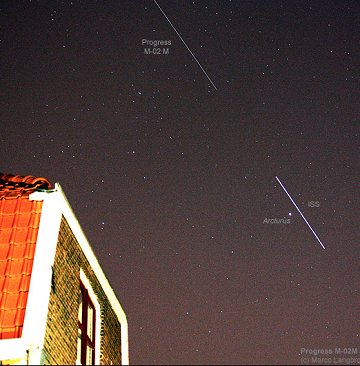 Langbroek notes that the Progress vehicle was about 6 magnitudes or 250 times dimmer than the International Space Station. Nevertheless, both were visible to the unaided eye and "it was neat to see the two chase each other over the sky."
Soon, the ISS will have a new sidekick: Space shuttle Endeavour, delayed by weekend lightning, is scheduled to launch this Wednesday, July 15th, at 6:03 p.m. EDT. Endeavour will rendezvous with the ISS two days later, setting the stage for a new set of double flybys, much brighter and more eye-catching than the Progress-ISS combo. Check the Simple Satellite Tracker for flyby times.
more images: from Dave P Smith of Bluebell Hill, England; from Tamas Ladanyi of Veszpremfajsz, Hungary; from Alan Dyer of Gleichen, Alberta, Canada; from Rijk-Jan Koppejan of Middelburg, The Netherlands; from Steve Holmes of Laxfield, Suffolk UK; from Tomáš Maruška of Marianka, Slovakia; from Scott Novitsky of Grand Rapids, MI; from Rob Bullen of Cinderford, Forest of Dean, Gloucestershire, UK; from Jan Koeman of Kloetinge, The Netherlands
---