COLORADO FIREBALL: "A fireball of magnitude -10 (about 250 times brighter than Venus) lit up central Colorado at 2:28 a.m. MDT on July 13th," reports astronomer Chris Peterson of Guffey, Colorado. "It was very slow, lasting at least 5.5 seconds." Triangulating sightings from Colorado and New Mexico, he estimates that the meteoroid was "only 50 km high and traveling about 15 km/s. The fairly low altitude and low velocity mean this fireball might have produced meteorites." [more information]
NOCTILUCENT STORM: Last night, after a two week intermission, noctilucent clouds returned to Europe in force. "It was one of the best displays of the summer," reports Jan Koeman of Kloetinge, The Netherlands. "The beautiful rippling structure of the electric-blue clouds reminded me of the skin of a Great Blue Whale!" He took this picture using a Nikon D300: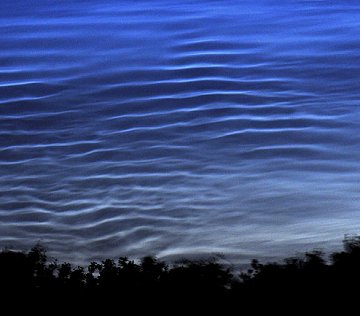 Similar reports poured in from Poland, Hungary, the Czech Republic, Belgium, Scotland, Ireland, England and France. "They were so bright I could see them from one of the most light-polluted places one could imagine--the Brussels Ringway," says Philippe Mollet, who made a movie of the clouds gliding over the urban heart of Belgium.
2009 has been a good year for noctilucent clouds--and that's no surprise. Noctilucent clouds almost always surge during years of solar minimum such as 2009. No one fully understands the link, but here is a popular idea: Low solar activity allows the upper atmosphere to cool, promoting the formation of tiny ice crystals that make up noctilucent clouds. Browse the gallery for observing tips and more snapshots from July 12th and 13th:
UPDATED: 2009 Noctilucent Photo Gallery
[previous years: 2008, 2007, 2006, 2005, 2004, 2003]
CREPUSCULAR RAYS: On Saturday evening, July 11th, Alan Dyer was watching a nice purple volcanic sunset from Gleichen, Alberta, when two giant rays split the sky:
"These shadows diverging from the sunset point were likely created by distant storm clouds over the horizon to the west,"days Dyer. "It was one of the best displays of crepuscular rays I've ever seen."
"The image is a High Dynamic Range stack consisting of three exposures, each one 1-stop apart, to record both the darker ground (a field of yellow canola) and details in the brighter sky," he notes. "I used a Canon 5D MkII and a 16-35mm lens."
2009 Sarychev Sunset Gallery
[See also: 2008 Kasatochi Sunset Photo Gallery]
---