| | | |
| --- | --- | --- |
| Where's Saturn? Is that a UFO--or the ISS? What's the name of that star? Get the answers from mySKY--a fun new astronomy helper from Meade. | | |
CELESTIAL TRIANGLE: After the sun sets tonight, go outside and look south. You'll see Saturn, the gibbous Moon, and first-magnitude star Regulus gathered together in the form of a scalene triangle: sky map. With the bright Moon to guide your attention, Saturn is easy to find. Got a telescope? Point it at Saturn and behold the planet's rings before they vanish.
PINK AURORAS: "Working at a remote mine in Canada's Northwest Territorry allows us to see auroras regularly," says Lana Rupp, "but April 6th was the first time I've seen so many colors--pink, purple and green." She took this picture of the sky above the mine using her Nikon D40X: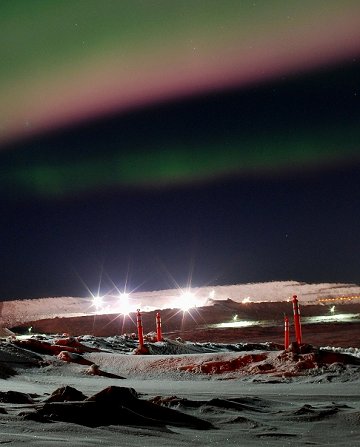 Photo details: Nikon D40X, 10 sec exposure, 400iso, 30mm, f4.5
Why the pink? Auroras are caused by charged particles (mainly electrons) from space raining down on Earth's atmosphere, causing the air to glow where they hit. The most common shade is green; this is the color given off by oxygen 60+ miles above Earth's surface. On April 6th, however, a burst of extra-energetic electrons penetrated the atmosphere deeper than usual reaching altitudes less than 60 miles. For such "low auroras," the temperature and density of air favor not the green glow of oxygen but the pink and purple shades of molecular nitrogen, hence the pink fringe. Learn more about aurora colors from Alaska's Geophysical Inststitute.
April 2008 Aurora Gallery
[Aurora Alerts] [Night-sky Cameras]
HAIL STORM RAINBOW: "April showers bought us a few hail storms this weekend," reports Pete Glastonbury of Devizes, Wiltshire, UK. "One of them produced a rainbow with the hail storm below." He snapped this picture of the sky behind his house: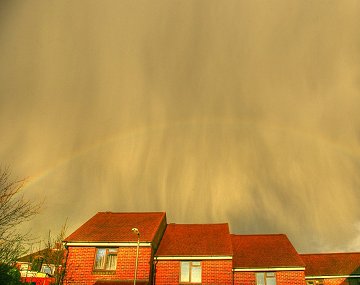 Photo details: Pentax ist DL, ISO 100, 1/250 sec
Should this be called a "hailbow"? No. Atmospheric optics expert Les Cowley explains that "rainbow" is still the correct word to use:
"Hailstones are too irregular and opaque to make rainbows; This hailstorm had to be mixed with rain," he says. "Rainbows need transparent and almost perfect spheres to refract the sun's rays, so perfect it seems miraculous that we ever see a rainbow!"
There is a mysterious type of rainbow known as the twinned bow, adds Cowley. "These are somehow associated with hail showers. One theory is that ice spheres inside raindrops form them." Twinned bows may be the true hailbows. Look for them whenever solid rain begins to fall.
more rainbow images: from Alan Friedman of Buffalo NY; from Mila Zinkova of San Francisco, California; from Shawn Malone of Marquette, Michigan; from Denis Joye at the Park of St-Cloud near Paris, France; from Aymen Ibrahem at the Bibliotheca Alexandrina, Alexandria, Egypt; from Eugene Miller at Croton Dam, New York.
---