NETHERLANDS FIREBALL: This evening in the Netherlands, at approximately 16:56 UT, a fireball nearly as bright as the full Moon streaked across the twilight sky. "It was red-orange in color and broke apart into 5 or 6 pieces as I watched it from the village of Ermelo," says eye-witness Koen Miskotte. Other observers report sonic booms, low rumbles and shaking windows. A lucky shot by photographer Jan de Vries caught the meteor in mid-flight. Stay tuned for updates.
MORNING PLANETS: This week, Venus and Saturn are having a lovely close encounter in the morning sky. Laurent Laveder sends this picture of the duo from the shores of the river Odet, a few kilometers from Quimper, France: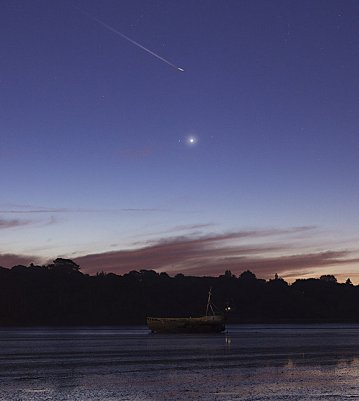 "It was a beautiful conjunction," he says. "Venus and Saturn were less than 1o apart."
Readers, the boats and planes may change, but the heavens remain the same no matter where you live. Set your alarm for dawn and look east for planets. It's a nice way to begin the day: sky map.
more images: from Mohammad Javad Fahimi of Kerman, Iran; from M. Raşid Tuğral of Ankara-Turkiye, Turkey;
NORTHERN LIGHTS: A minor solar wind stream hit Earth's magnetic field on Oct. 11th, sparking green auroras around the Arctic Circle. Aleksander Chernucho photographed the display from Russia's Kola Peninsula not far from the border of Finland: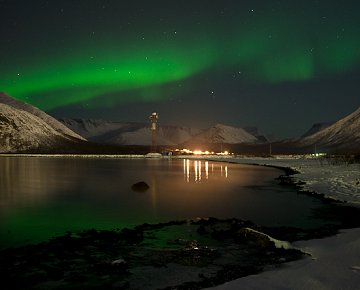 "I used a Nikon D700 for this 10 second exposure," he says.
More auroras could appear on Oct. 15th when another solar wind stream is expected to reach Earth. Arctic sky watchers should be alert for green lights in the sky.
more images: from M-P Markkanen of Kuusamo, Finland
---
Sept. 2009 Aurora Gallery
[previous Septembers: 2008, 2007, 2006, 2005, 2004, 2002, 2001]
---