DEEP QUIET: Today, the sun is entering its 13th consecutive day without sunspots. Just a few years ago, such a stretch of blank suns would have been unthinkable. Now it's routine. So far this year, the sun has been spotless 79% of the time, topping the 73% mark recorded in 2008. Long after many forecasters thought solar minimum would be finished, the quiet is not only continuing, but actually deepening. Are sunspots gone for good? Researchers discuss the question in an article from Science@NASA.
NETHERLANDS FIREBALL: A fireball as bright as the full Moon startled observers in the Netherlands yesterday when it raced across the evening twilight sky. A lucky shot by photographer Jan de Vries at approximately 1658 UT caught the meteor in mid-flight: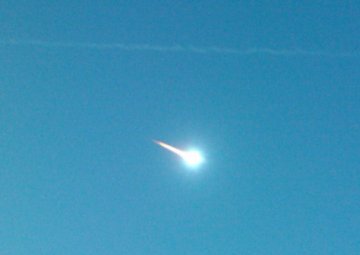 "It was spectacular," says eyewitness Dominic Doyle of the European Space Agency in Noordwijk. "I estimate its magnitude to be about -12," adds amateur astronomer Koen Miskotte, who saw it from the small village of Ermelo. Various observers report it breaking apart into as many as a half-dozen pieces, followed by sonic booms, low rumbles and shaking windows. A Royal Dutch Meteorology Institute listening post detected strong infrasound (low-frequency sound) waves, apparently confirming a high-altitude breakup event: data.
more images: from Robert Mikaelyan of Groningen, The Netherlands
NORTHERN LIGHTS: A minor solar wind stream hit Earth's magnetic field on Oct. 11th, sparking green auroras around the Arctic Circle. Aleksander Chernucho photographed the display from Russia's Kola Peninsula not far from the border of Finland: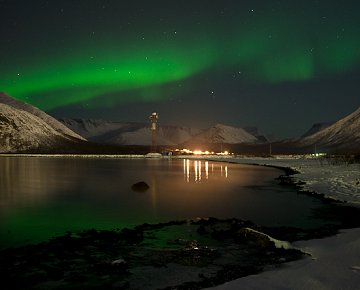 "I used a Nikon D700 for this 10 second exposure," he says.
More auroras could appear on Oct. 15th when another solar wind stream is expected to reach Earth. Arctic sky watchers should be alert for green lights in the sky.
more images: from M-P Markkanen of Kuusamo, Finland
---
Sept. 2009 Aurora Gallery
[previous Septembers: 2008, 2007, 2006, 2005, 2004, 2002, 2001]
---