MORNING PLANETS: Mark your calendar for June 19th. On that Friday morning, Venus, Mars and the crescent Moon will gather in the pre-dawn sky for a lovely triple conjunction. It's a great way to begin the day. [sky map]
SPACE STATION TRANSIT: "Yesterday, there were many clouds over the Black Forest," reports German photographer Achim Schaller. "Fortunately, a really stormy wind pushed them away just 20 seconds before the International Space Station passed in front of the sun!" He photographed the silhouette using a 3-inch refracting telescope and a Nikon D700: "Have a look at the trees bent by the storm," he says.
The shape of the ISS, so beautifully highlighted in Schaller's photo, is going to change next week when space shuttle Endeavour visits the station and delivers a porch. You read that right--a porch. The purpose of the addition is not for astronauts to sit outside and watch the stars. It's for science: experiments that require hard vacuum or radiation exposure can be placed "out on the porch" to take advantage of the station's unique research environment. Launch is scheduled for June 13th.
Readers, you may be able to see the Endeavour-ISS combo with your own eyes. Check the Simple Satellite Tracker for flybys.
REFLECTION RAINBOW: At the end of the day on June 11th, a rainstorm swept over Bountiful, Utah. Local resident Mark Turner walked outside to enjoy the rainbow, "but it looked odd," he says. "There were two rainbows, equally bright, and each had a different center of radius." (continued below)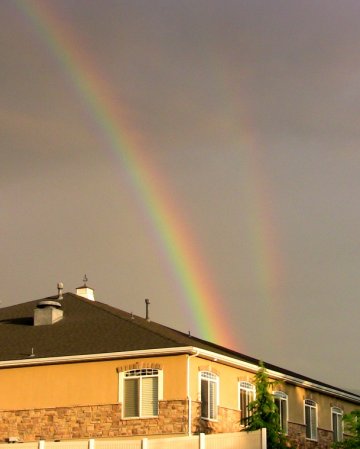 "We soon realized that the two rainbows were caused by two different sources of light: (1) the sun beaming directly through a hole in the clouds and (2) the sun's reflection off the Great Salt Lake." The second is called a "reflection rainbow," and it is a rare sight.
"Once we realized how unusual this was, we raced to get my camera, but by that time the rainbow caused by the reflection had faded to a fraction of its previous luminosity. I still managed to capture the two 'bows together before the reflection rainbow completely faded away."
Rainbows come in a variety of forms. The reflection rainbow Turner photographed is just one of many you can see if you are alert for the unusual. Start looking here.
---
UPDATED: 2009 Noctilucent Photo Gallery
[previous years: 2008, 2007, 2006, 2005, 2004, 2003]
---