BEWARE THE MARS HOAX: Just when you thought it was safe to check your email, the dreaded Mars Hoax is making the rounds again. Science@NASA has the full story.
LUNAR IMPACT: Japan's Kaguya spacecraft crashed into the Moon on Wednesday, June 10th, and the impact reportedly produced a flash visible from Earth. This sequence of images comes from the 3.9 meter Anglo-Australian Telescope in New South Wales, Australia:

Astronomers Jeremy Bailey and Steve Lee used the observatory's Infrared Imager and Spectrograph (IRIS2) to record the fireball, which appeared at 18:25 UT when the 2,900 kg spacecraft slammed into the lunar surface at 6000 km/hr. The observations were made with a 2.3 micron narrow band filter, and are part of a time series of 1 second exposures with 0.6 seconds dead time between each frame.
Readers are asking, why bother hitting the Moon? For one thing, it's a good way to end a mission. Lunar satellites can't orbit forever because the Moon's gravitational field is weird and lumpy. Crashing is better than flying off into space, where the spacecraft could pose a hazard to other missions. Crashing also produces a fireball, which allows astronomers to estimate the "luminous efficiency" of objects hitting the Moon. Luminous efficiency is a key parameter required to interpret genuine lunar meteorite impacts. Also, hitting the Moon might uncover something interesting--like evidence of water. NASA's LCROSS spacecraft will attempt that trick later this year.
NOCTILUCENT CLOUDS IN MOTION: Why are noctilucent clouds (NLCs) so mesmerizing? It could be their otherworldly electric-blue color. Or maybe it's just the hypnotic way they move: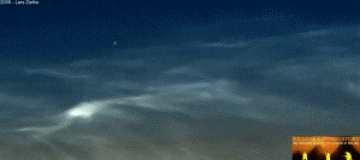 Click here for a full-length movie
Lars Zielke of Denmark made the movie on June 9th. "The NLCs appeared over my observatory in Tvis just after midnight. I documented their motions in a series of movies between 00:30 to 01:00 local time."
Even deeper hypnosis is in the offing. There is a well-known correlation between noctilucent clouds and the solar cycle: NLC activity tends to peak during years of solar minimum, possibly because low solar activity allows the upper atmosphere to cool, promoting the growth of ice crystals that make up the clouds. With a century-class solar minimum underway, the stage is set for NLCs.
UPDATED: 2009 Noctilucent Photo Gallery
[previous years: 2008, 2007, 2006, 2005, 2004, 2003]
---