| | | |
| --- | --- | --- |
| WAKE UP! Did you sleep through the auroras of October? Next time get a wake-up call: Spaceweather PHONE. | | |
PHOENIX LOSES POWER: Mars lander Phoenix has lost power and is no longer communicating with Earth. The problem was sunlight: With the winter sun at Phoenix's landing site hanging lower day-by-day and an unexpected dust storm dimming the sun even more, Phoenix's solar panels could not gather the light they needed to charge the lander's batteries. Mission planners always knew Phoenix would not survive the harsh Martian winter, so this turn of events is no surprise. Farewell, Phoenix, and congratulations to the Phoenix team on a very successful mission.
SUNSPOT GROUP 1008: A new group of sunspots is growing rapidly in the sun's northern hemisphere. The active region, numbered 1008, contains no fewer than seven dark cores. Pavol Rapavy sends this picture from his backyard observatory in Rimavska Sobota, Slovakia: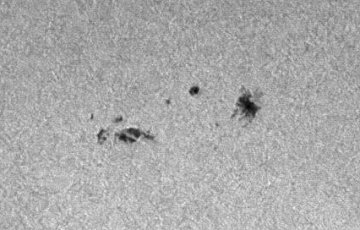 Using an H-alpha filter tuned to the red glow of solar hydrogen, Pete Lawrence of Selsey UK witnessed "the formation of a lovely magnetic filament" connecting opposite ends of the sunspot group: photo.
Judging from its high latitude, active region 1008 is a member of new Solar Cycle 24. The appearance of 1008 continues a recent trend of increasing new-cycle sunspot counts, which began in Oct. 2008. Solar activity is on the rise; tf you have a solar telescope, take a look!
more images: from Franck Charlier of Marines, Val d'Oise, France; from David Leong of Hong Kong; from Andy Yeung of Hong Kong; from Peter Paice of Belfast, Northern Ireland; from Denis Joye of Boulogne, France; from Catalin M. Timosca of Turda, Romania;
INLAND MIRAGE: People strolling along the beach at the end of the day frequently see strangely-shaped suns sinking into the waves. Oceans are good at producing such mirages. But there was no ocean near this mirage deep in the heart of Texas: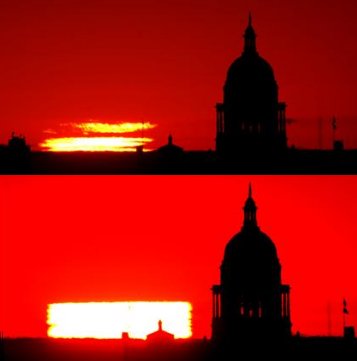 Photo details: Canon 40D, 800 mm lens
"On Nov. 8th, I was out shooting the sunrise behind the capitol building in Austin," says photographer Sam Cole. "To my surprise, I saw some very odd shapes."
What happened? Atmospheric optics expert Les Cowley explains: "Miraged suns are rare inland. A temperature inversion (colder air below warmer air) is needed and a cold ocean most easily creates one. Probably the previous Austin night was clear, allowing the ground to radiate its heat away into space. This in turn cooled the air touching it and voila! - a sunrise mirage. The same cooling effect gives the fabled Fata Morgana mirage and morning mists with their fogbows. Get up early to catch them!"
---
2008 Taurid Fireball Gallery
[sky map] [2005 Taurids: on Earth, on the Moon]