| | | |
| --- | --- | --- |
| WAKE UP! Did you sleep through the auroras of October? Next time get a wake-up call: Spaceweather PHONE. | | |
IN SEARCH OF METEOR SHOWERS: NASA astronomers have set up a monitoring station to scan the night sky for unknown or unexpected meteor showers--and they're finding more than they bargained for. In only two months of observing, the newly commissioned system has captured a flurry of meteors from an unknown comet and an object from the asteroid belt exploding like 500 lb of TNT. See the movies in today's story from Science@NASA.
SUNSPOT GROUP 1008: November is a cloudy month in South Wales, so this morning when Steve Wainwright of Swansea saw the sun shining through clear skies, he couldn't resist a smile. When he looked at the sun through his backyard solar telescope, the sun was smiling back: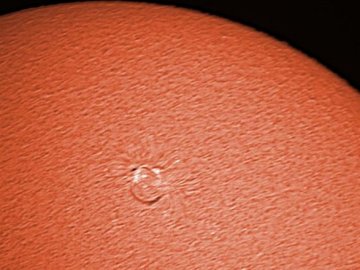 "The sun is waking up and winking at us today," says Wainwright.
The "smile" is a filament of plasma connecting the two magnetic poles of sunspot 1008. Magnetograms of the active region reveal a N-S polarity characteristic of Solar Cycle 24: this is a new-cycle sunspot. The appearance of 1008 continues a recent trend of increasing new-cycle sunspot counts, which began in Oct. 2008. Solar activity is on the rise; if you have a solar telescope, take a look!
more images: from B. Shelzi and J. Stetson of South Portland, Maine; from Paul Haese of Blackwood, South Australia; from Jan Timmermans of Valkenswaard, the Netherlands; from Pete Lawrence of Selsey, West Sussex, UK; from Peter Paice of Belfast, Northern Ireland; from Andy Yeung of Hong Kong;
FROSTY MOON HALO: There's a full Moon tonight and according to folklore it is the "Frosty Moon." Go outside shortly after sunset while the Frosty Moon is still hanging low in the east. Then, look straight up. You might see something like this: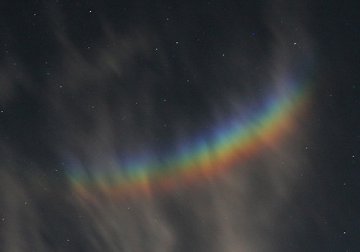 It appears to be a rainbow, but it is not. This is a circumzenithal arc (CZA), caused by moonlight shining through ice crystals in high cirrus clouds. Canadian photographer Lauri Kangas took the picture one month ago when October's full Moon was rising above his hometown, Caledon, Ontario.
"It was the brightest lunar CZA I have ever seen," says Kangas, "and it hung around just long enough for me to get the camera and tripod."
Lunar CZAs form only when the Moon is low, less than 32.3° above the horizon. So don't wait. Look for the pure colors of this frosty halo during the first hours of darkness before the Moon rises too high and the arc fades away.
---
2008 Taurid Fireball Gallery
[sky map] [2005 Taurids: on Earth, on the Moon]