| | | |
| --- | --- | --- |
| FLYBY ALERT! Space shuttle Discovery launched on May 31st. Get your flyby alerts from Space Weather PHONE | | |
SOLAR ACTIVITY: The eastern edge of the sun is alive with activity today. A new active region is churning up the solar surface while a tall triangular prominence invites observation through backyard solar telescopes. Not bad for solar minimum....
NLC ALERT: The first bright noctilucent clouds (NLCs) of the 2008 season appeared over Ireland this weekend. "Just before sunrise on June 7th, a bright white display of bands and billows snaked across the sky," reports Martin McKenna of Maghera, N. Ireland. "Using binoculars, I could see them moving and they reminded me of white wave crests on the ocean." A similar display appeared over Limerick, Ireland, where Frank Ryan Jr. snapped these photos: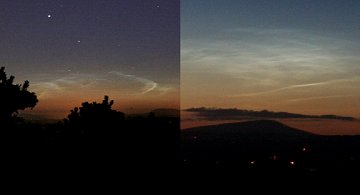 Summer is the season for NLCs and the first good displays usually come in early June. What are these glow-in-the-dark clouds? They are swarms of tiny ice crystals about the size of particles in cigarette smoke floating 80+ km above Earth's surface at the edge of space itself. When sunlight strikes these tiny crystals, the clouds glow electric blue.
That is what they are--well known. What makes them, however, is a deep mystery. High-latitude NLCs first appeared in the 19th century after the eruption of super-volcano Krakatoa. At the time the clouds were widely thought to be associated with the eruption, but long after the ash settled, NLCs persisted. In recent years they have intensified and spread with sightings as far south as Utah and Colorado. A NASA spacecraft named AIM is in orbit to investigate.
Readers, especially you at high latitudes, be alert for NLCs in the evenings ahead. Observing tips may be found in our 2007 Noctilucent Cloud Gallery.
PYRAMID ICE HALO: When the residents of Tampere, Finland, woke up on June 6th and looked out at the morning sun, they were greeted by a fantastic display of nested halos. "I've never before seen four rings around the sun!" says eye-witness Emma Herranen. "Luckily, I had time to fetch my camera (a Canon 5D) for a quick self-portrait before heading to work."
These fantastic halos are formed by equally fantastic ice crystals, crystals shaped like pyramids. Atmospheric optics expert Les Cowley explains:
"Imagine an 'ordinary' cloud ice crystal, a six-sided prism with flat ends. Now put an ice pyramid on each end. Finally, chop off the sharp pyramid points. The result, a twenty-sided crystal. Sun rays passing through them have a whole variety of possible paths and form multiple rings called 'odd-radius' halos. Emma saw 9o, 18o, 20o, 22o and 23o halos (simulation) and perhaps larger ones too in Finland, the 'Home of halos.' They are rare, but not that rare, look out for them!"
---