| | | |
| --- | --- | --- |
| FLYBY ALERT! Space shuttle Discovery launched on May 31st. Get your flyby alerts from Space Weather PHONE | | |
HEAVENLY TRIANGLE: Ringed planet. First-magnitude star. Crescent moon. Add them all together and you get a heavenly triangle visible tonight. Look up after sunset for Saturn, Regulus and the Moon in scalene formation: sky map.
PYRAMID ICE HALO: When the residents of Tampere, Finland, woke up on June 6th and looked out at the morning sun, they were greeted by a fantastic display of nested halos. "I've never before seen four rings around the sun!" says eye-witness Emma Herranen. "Luckily, I had time to fetch my camera (a Canon 5D) for a quick self-portrait before heading to work."
These fantastic halos are formed by equally fantastic ice crystals, crystals shaped like pyramids. Atmospheric optics expert Les Cowley explains:
"Imagine an 'ordinary' cloud ice crystal, a six-sided prism with flat ends. Now put an ice pyramid on each end. Finally, chop off the sharp pyramid points. The result, a twenty-sided crystal. Sun rays passing through them have a whole variety of possible paths and form multiple rings called 'odd-radius' halos. Emma saw 9o, 18o, 20o, 22o and 23o halos (simulation) and perhaps larger ones too in Finland, the 'Home of halos.' They are rare, but not that rare, look out for them!"
CORONA LIGHT: Yesterday when the International Space Station (ISS) cut through the evening twilight over Tucson, Arizona, photographer Scott Peshia had his camera ready and captured the flyby. He calls this snapshot Corona Light: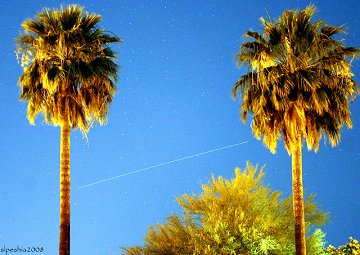 The ISS in blue sky? That's right, absolute darkness is no longer required to see the ISS. The growing space station is now brighter than Venus and more than one reader has reported seeing it in broad daylight. Space shuttle Discovery is currently docked to the ISS, which makes the complex brighter still. It's a beautiful sight. Please try our Simple Flybys tool to find out when to look.
Also, be alert for flares. Dave Nelson of Stoughton, Wisconsin, reports "I just watched the ISS go over tonight (June 6th)--a nice pass almost directly overhead. Then, as the ISS headed east, it flared better than any Iridium!" This is caused by sunlight glinting off one of the station's many flat surfaces. ISS flares are currently unpredictable; they are a breathtaking surprise.
more images: from Mike Borman of Evansville, Indiana; from Dan Earl of Grass Valley, Oregon; from Bryan of Babylon, New York; from Steve Newcomb of Oakland, Maryland; from Paco Bellido of Córdoba, Spain;
---